Mobile Workbench Tool Cabinets
Product Announcement from Jamco Products, Inc.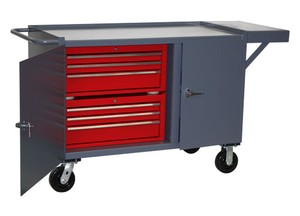 Models RV, RP, & RS are the Mobile Workbench Tool Cabinets from Jamco Products which meet any number of needs for safely and securely storing your tools in the work environment. These lockable tool chests come with 6 drawers along with a durable 12 gauge work top, bottom shelf, doors & caster mounts and 14 gauge sides. With three models to choose from and features such as doors, drawers and shelves to choose from there is one to meet your needs. The Jamco Products Mobile Workbench Tool Cabinet will make your work space more convenient with everything you need right at your fingertips and with the added benefit of mobility. Click here to see the full line of Jamco Products Mobile Work Centers.
Product Features:
•Lockable tool chest, 6 drawers are 23"w x 16"d, 2 at 4" high, and 4 at 2" high.
•All welded construction, except casters & drawers.
•Durable 12 gauge work top, bottom shelf, doors & caster mounts. 14 gauge sides.
•Tubular handle with smooth radius bend.
•Bolt on casters, 2 rigid, 2 swivel, for easy replacement and upgrade.
•Overall height is 36".
---