Product Announcement from Jaygo, Inc.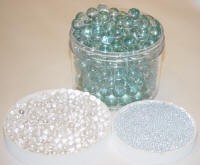 Dragonite Glass Beads exceed the industry standards in all properties, including High Density, High Impact Strength, Abrasive Resistant, High Crushing Strength, Completely Spherical, No Surface Cracks, No Sliver, Broken or Fused Pieces, and Reduced Mill Ware.
The beads are Lead Free (specific gravity 2.55) and are available in a wide range of sizes (from 1-20 micron to 25 mm).
Dragonite Solid Glass Beads are produced from high quality, soda lime glass. Due to the unique washing and polishing process, the beads are pure and uncontaminated. This process is and has always been free of harmful additives
Wherever precision and perfection is needed Dragonite is there...
Industries: Paint and Pigment Industry Coatings, Industry Ink, Industry Optical, Industry Dental, Industry Pharmaceutical, Industry Fine Chemical, Cosmetic Industry
Applications
Wet milling, Filtration, Blasting, Polishing, Chromatography, Filler and Extender, Frame Molding, Deburring and Finishing, Decorative, Instrument Calibration, Heat Transfer and Mechanical Plating
Contact: Rosanna DeLuca at 1-888-815-2946 x 110 * rosanna.deluca@jaygoinc.com
For additional technical information and detailed specification sheets. Click on the links below.
Glass Beads - Type M - 1.5mm - 9.0mm
Glass Beads - Type M - 9.0 mm and larger

Glass Beads - Type S - 0 microns - 800 microns
Glass Beads - Type S - .025mm to 4.4 mm
You have successfully added from to your part list.
---