Product Announcement from Jaygo, Inc.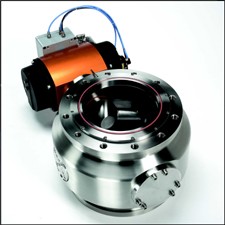 Sanitary Valves
Lunar Ball Segment Valves
The Lunar Ball Segment Valve has been developed for use on equipment that requires a valve with the ability to operate at full vacuum and elevated pressures.
The Lunar Ball Segment Valve has a full-bore opening where material cannot build up, accumulate, or be captured within the valve body. The valve seal material can be Perfluoroelastomer or Viton, and it is designed to inflate after the valve segment is closed.
The full-bore opening of the valve allows free flow of products through the valve. The torque requirements to operate the valve are significantly lower than that of standard Ball valves. This is due to the fact that only a segment of the ball has to be turned to open or close the valve. The inflatable seal does not touch the ball segment while it is moving.
The Ball Segment Valve is easily opened or closed without the possibility of jamming.
The valve can be supplied optionally with a full fail-safe system. In this case, the valve closes whenever there is a loss of electric power or compressed air/nitrogen. When a failure occurs, a pressurized accumulator tank closes the valve. After the valve is closed, the inflatable seal is pressurized to close the space between the ball segment and the valve housing.
The unique features of the Lunar Ball Segment Valve include:
Full bore opening to allow maximum product flow
Ability to open and close with static or flowing material
Standard sizes from 4" (100mm) to 12" (300mm)
Larger sizes available up to 20" (500mm)
Designed for full vacuum and overpressure (on the upstream or downstream side of the valve)
Perfluoroelastomer seals which are highly chemically resistant (Viton and EPDM also available)
Safe operation at temperatures up to 400°F. (230°C)
Inflatable seal to prevent jamming and leaking
Seal inflates only when valve is fully closed and deflates before opening, virtually eliminating seal wear and increasing seal life
Inflatable seal reduces actuator torque requirements
Special wiper design reduces product build-up on ball segment
Fail Safe options available
Manually or Pneumatically actuated
316 S/S material of construction standard (other commercially available materials can be quoted optionally)
CIP/SIP options available
Options:
CIP
Clean in place spray system can be supplied with removable or fixed spray nozzles.
Sight Glass
Ball segment housing can be supplied with sight glass for inspection of ball segment operation and product flow
Custom built valves
Connection to a block flange
Ball segment heating
Heated jacket on ball segment valve housing
Flanges at an angle
Sanitary connections
Dead space free design
© Copyright 2009. Jaygo, Incorporated. All rights reserved.
Toll Free: 1-888-81-JAYGO

Phone: 908-688-3600
You have successfully added from to your part list.
---