Product Announcement from Jena-Tec, Inc.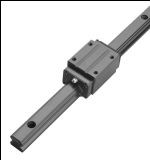 A proprietary technology for corrosion protection can be added to the Jena-Tec Linear Rail Guides making it suitable for corrosive environments, food grade applications and clean room standard machinery such as that used in semi conductor manufacturing.
The method of coating deposition ensures that no hydrogen embrittlement takes place while a high degree of elasticity is maintained in the coating. While the steel substrate is flexed and placed under repeated external deformation or bending, the coating maintains its appearance and performance and is free from flakes, chips and cracks which may appear in other anti-corrosion treatments such as chrome or nickel plating.
Tests conducted on linear rails within materials testing institutes showed that for a variety of tests, Jena-Tec's Raydent coated rails outperformed alternative electro chemical methods with no evidence of rust, whereas traditional coatings such as chrome plating corroded significantly. Raydent was effective in concentrated sulphuric acid environments, sodium hydroxide and salt water spray tests with no evidence of degradation.
Specially treated to order, the Jena-Tec Raydent treated range provides a superior lifetime performance in excess of 10 years.
For information contact the Jena Tec team at 1.888.4.JENATEC or email at sales@jenatecusa.com.
You have successfully added from to your part list.
---