JENA-TEC's MF Linear Guide Keep Going and Going...
Product Announcement from Jena-Tec, Inc.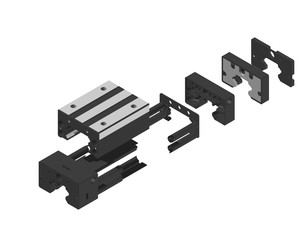 Expensive lubrication systems become a thing of the past when you specify JENA-TEC's MF Series Linear Rail Option. Our MF Seal Units provide a cost-effective solution for linear guide systems with its maintenance-free lubrication. Not only will it excel the linear guide performance but the JENA-TEC MF Seals will give your machines extended operation life.
The MF (Maintenance Free) Lubricating Seal gives longer life for Linear Rail Systems, eliminating the necessity for periodical greasing. The MF Unit contains high quality, grease-filled fiber seals which guarantee total surface lubrication and long maintenance-free bearing life. The polymer housing containing the surface contact seals are tolerance-matched to the guide rail to ensure perfect sealing and smooth motion.
The lubricant in the MF Seal Units is contained, spread and absorbed by the fiber seals. Using grease rather than oil ensures that the lubricant is retained within the MF Seal Units for a much longer working life than oil would remain. The grease used is compatible with most standard industrial grades recommended for bearing block applications, and provides excellent thermal stability and water-proofing characteristics.

Tests conducted show a clear advantage of MF type seals, despite a modest increase in overall length through the slim line design of the fiber seal housing. Results show that for a standard theoretical distance life time calculation of a heavy pre-loaded guide block, the distance for an MF type under heavy load can be increased by 40% up to a 1000Km with no sign of degradation or wear affecting performance or accuracy. For light pre-loads, the life extension can be up to a factor of 10 times. Even then, replenishment with new MF End Caps is a very simple straightforward procedure to give a further period of un-interrupted service.
The name "MF Option" says it all . . . Maintenance Free. This cost effective feature significantly extends the life and performance of your linear rail system. For more details, contact JENA-TEC, Inc. at 1.888.4JENATEC, or visit us on the web at www.jena-tec.com.
---