Full Strength Stainless Steel Hoist Rings
Product Announcement from Jergens, Inc.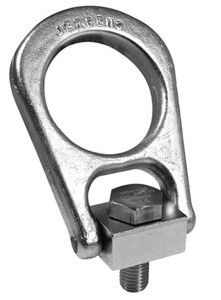 Jergens Full Strength Stainless (FSS) Hoist Rings are 100% domestically manufactured from 17-4 PH stainless steel, these forged, center pull hoist rings provide the same working load limit as Jergens' alloy steel products with the added benefit of increased corrosion resistance in harsh environments.
Available in both inch and metric sizes, FSS Hoist Rings have unique design features that make them ideal for OEM and industrial use. The forged, "large eye" style lifting bale includes a crossbar design that eliminates the possibility of spreading in misapplications. Additionally, a permanently secured lifting bolt makes these hoist rings tamper-proof.
Material: 17-4 pH Stainless Steel
Full (over center) swivel and pivot action
Capacities up to 5,000 lbs.
Inch and metric
5:1 strength factor-alloy steel
Made in U.S.A.
---