Product Announcement from Jewell Instruments, LLC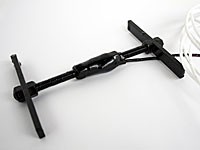 Jewell Instruments offers a Dynamic Asphalt Strain Gage (ASG), an embeddable strain gage designed for use in high frequency (dynamic) environments. These rugged gages are built to withstand high temperatures and vibratory roller compaction, making them ideal for infrastructure and construction type projects. Our ASGs utilize a Wheatstone bridge circuit, which compensates for temperature and lead resistance, and filter unwanted noise for precision strain measurements. Units are offered in either bending strain or axial strain configurations (please specify per order). Our Dynamic ASGs are a perfect choice for measuring strains in asphalt pavement and for comprehensive infrastructure monitoring.
Jewell Instruments is a world leader in the manufacture and distribution of panel meters, avionics components, inertial sensors, and precision solenoids. Jewell Instruments provides custom solutions for a diverse group of industries, including aerospace, medical, industrial, telecommunications, and many more. Jewell Instruments' experienced engineering team works with customers to produce high quality, reliable products that meet or exceed all customer requirements.
For over 60 years, Jewell Instruments has provided commercial and industrial panel meter solutions. In today's market, we offer our customers the only complete range of panel meter options available anywhere: analog and digital meters in surface, bezel, and window mounts as well as switchboard and edgewise configurations.
Our market leadership in high quality sensors includes both accelerometers and inclinometers. We serve industries ranging from aerospace, marine, communications, rail and rail transportation, and various industrial applications. Our depth of applications experience, product knowledge, and engineering expertise makes us the solution of choice.
Jewell Instruments specializes in valued-added avionics components. We are an industry-leader in both standard and custom designs. We manufacture our avionics components completely in-house ensuring that we meet or exceed your toughest specification.
Our industry leading experience in providing linear solenoids for challenging applications stretches over three decades serving the aerospace, medical, office equipment, photographic and safety and security systems markets.
Our Triplett test equipment product line brings over 100 years experience providing the highest quality, most technologically advanced, rugged and reliable products in the marketplace. Combined with the most economical pricing available anywhere, Triplett products can't be beat. Click here to visit the Triplett website.
We have built our success on:
creative engineering expertise
custom designs for unique requirements
superb applications knowledge
"extended staff" relationships with our customers' engineering staffs
high quality, reliable products.
Reliability Is What We Deliver
Jewell Instruments provides OEMs and end-users with industrial electro-mechanical and electro-magnetic products. We specialize in reliability, value and responsiveness. Our standard modified and custom designed industrial products provide optimal price/performance ratios for our customers.
Engineering Teamwork
Cooperation and joint planning between our engineering groups and yours drive our customer care experience. Whether your application calls for a standard unit or a wholly custom job, our Applications Specialists develop specs that ensure the products delivered to you meet or exceed all of your requirements. We work as an extension of your engineering and manufacturing teams to solve problems, improve products, shorten lead-times and bring more value to your products and services. Superb customer support is the cornerstone of our many successful, long-term customer relationships.
Why we're different
Bullet-proof designs
Broad applications experience extending your engineering staff
Complete Customer Care tailored to your unique needs… from Sales to Design to Manufacturing and Testing and finally to Delivery and Support
Cellular manufacturing for efficient, effective custom or tailored products or volume production
Jewell Instruments is a world leader in the manufacture and distribution of panel meters, avionics components, inertial sensors, and precision solenoids. Jewell is also a leading supplier of monitoring systems and services for buildings, tunnels, dams, slopes, embankments, volcanoes, landslides, mines and construction projects around the world.
Jewell Instruments offers the highest reliability combined with our proven, uniquue engineering and manufacturing capabilities. We are a leading provider of panel meters and traditional electro-mechanical avionic meter mechanisms and instruments.
If you need top quality professional tools, look no further than Triplett.
Partnership Manufacturing
Your Manufacturing Partner for Precision Sub-Assemblies and Complete Products
Precision Component Manufacturer
We've built our reputation as a provider of precision instrumentation, manufacturing our own line of accelerometers, inclinometers, analog and digital panel meters, solenoids and avionic products. If your product includes a sensor, solenoid or a display, Jewell can provide even more value and has experience integrating our own products into a wide variety of instruments including:
Test and measurement equipment
Scientific instruments
Medical devices
Sensing and positioning products
Avionic products
Flow measurement instruments
Security
Military Products
Engineering Know-How
Whether you're looking to control costs by outsourcing manufacturing of an existing product or you need help designing and developing a new product, the Jewell Engineering Team has the experience and expertise to bring your product to market quickly and cost-efficiently.
Purchasing and Material Control
Our large and well-established international network of distributors and manufacturers provides us with the most competitive pricing and assures availability of virtually any materials.
By consolidating your purchasing and manufacturing with us, you reduce your list of suppliers to just one – Jewell Instruments.
We offer:
Conversion of your current BOMs or creation of BOMs for complete purchasing and materials management
Complete sourcing of machined sheet metal, stamped and molded parts; circuit boards; optics; and commercial items.
Complete support of your flexible and changing production needs by stocking at both our Barbados and Manchester, NH facilities
Commitment to Quality
Our commitment to quality is not just an empty marketing slogan. Everyone at Jewell knows that companies live or die by the quality of the products they produce.
That's why you'll find the kind of top-tobottom commitment to quality at Jewell that other companies envy.
All test tools and equipment are calibrated to ANSI Z-540 and are traceable to NIST standards
All soldering is done to ANSI-J standards and training is done by our in-house certified ANSI training team
All manufacturing personnel are given ESD training by our certified in-house ESD training team
Certified and Approved to ISO 9001:2008
Inspection to MIL-I-45208
Adhere to AS 9100 standards
Precision Manufacturing
We've been manufacturing our own products and helping our customers develop better ways to manufacture theirs for over fifty years. Our customer list includes some of the premier names in the avionic, telecommunications, analytical and industrial equipment, and consumer electronics markets.
Capabilities include:
Thru-hole and surface mount circuit boards and thru-hole to surface mount conversion
Chip-on-board wire bonding for ICs, LEDs, and other components
High quality and cost-effective electromechanical and electro-optical assembly
Certified emulsion clean to MIL standards
Design and assembly of cables and harnesses
Precise wire handling for diameters as small as 20 µm to large gauge wire, including wire winding for magnetics
Laminar flow booths for clean room level assembly
Workbenches include microscopes for precision assemblies
Complete in-house design and fabrication
Temperature, humidity, centrifuge, shock, and vibration testing for either "proof of design" or routine QC
In-house silk screening and printing
Ability to apply epoxy and paint finishes for prototype and production quantities
Production lots from one to thousands
Thank you for visiting the Jewell Instruments website to learn more about our panel meters, avionic instrumentation, precision solenoids and custom engineered solutions. We look forward to hearing from you!
You have successfully added from to your part list.
---