Custom Fraunhofer ILT Nozzles from JTRC
Product Announcement from Joining Technologies, Inc.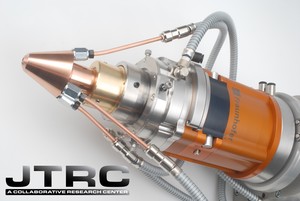 Our custom nozzles combined with affordable lasers and integration services now bring advanced laser technologies within reach of automotive, agricultural, tool and die and other industries. And for a fraction of both the cost and lead time of replacing parts, JTRC can also repair worn, damaged or even mis-machined components.

Engineered in Germany by Fraunhofer ILT.

JTRC features three custom nozzles to offer laser additive solutions for any application or alloy.


Continuous coaxial nozzle : Can be used omni-directional and with a tilting angle up to 20 degrees. Its hollow powder cone creates a smooth feeding gas flow and maintains an oxygen content of less than 20 ppm - perfectly suited for alloys which are susceptible for oxidation. This low oxygen value eliminates the need for a shielding gas chamber and opens the door to cladding or additive manufacturing even for titanium alloys.
3-beam nozzle : An omni-directional nozzle with three single powder feeds capable of cladding in almost any orientation. Its rugged design is especially suitable for use with higher laser powers (up to 3 kW CW with CO2 and up to 5 kW CW with other lasers) in combination with aluminum, iron, cobalt or nickel-based alloys.
INFINITE WEB™ 355 - 200W Laser cutting & welding system for splicing strip alloys. Avoid the risk of costly downtime due to re-threading!! watch video
Our team of engineers can help you design, develop and test your laser welding process, typically on equipment currently in our facility, before you begin integrating your own in-house laser system. Our support services include selection and integration of laser, optics, motion control and tooling. We have designed and built several versatile multi-axis systems for applications designed for Nd:YAG laser and transferred arc welding.
Joining Technologies is a laser systems integrator and reseller for TRUMPF USA-the world leader in lasers used for industrial production.
JTRC- A Collaborative Research Center
In partnership with Fraunhofer ILT. Offering system design and integration and accessory sales, including nozzles and cladding heads.
• Direct Photonic Production
• From CAD data to freeform parts made from serial materials
• Maintenance, Repair and Overhaul of high value components
Capabilities Quick Links: (use the links below for additional information and descriptions)
About Joining Technologies:
JOINING TECHNOLOGIES is recognized as an innovator in laser welding and cladding applications, delivering absolute reliability through innovation and team. Our advanced laser cladding and welding technologies provide dependable, cost-effective solutions that dramatically impact our customers' businesses. Our top-notch expertise, exclusive technologies and high performance culture provide the foundation for long lasting partnerships with our customers. JOINING TECHNOLOGIES is most often called upon when the challenge is significant and the risk is high.
Did you Know? In 2010, Joining Technologies earned a prestigious platinum award from the Connecticut Breakthrough Quality Awards for Infinite Web™, the first known automatic laser splicing system designed for high quality welding of steel and stainless steel strips end to end to generate long spools.View press release
Joining Technologies' Quality Management System is modeled & certified in accordance with the ISO 9001, 2000 and AS9100 international quality management standards.
Sign up for our VIDEO BLOG! Receive news about upcoming events and newly added capabilities
---