Laser Cutting Services
Service Detail from Joining Technologies, Inc.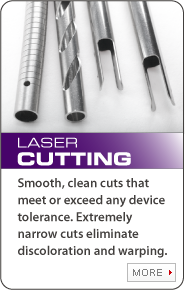 Using the best laser technology available today for smooth, clean cuts that meet or exceed any device tolerance. Our cut is just .0015" wide resulting in sharp accurate features. This extremely narrow cut also reduces the amount of heat going into the device making discoloration and warping a thing of the past. Our 4-axis system is capable of part geometries that mimic milled or wire EDM manufactured parts at a fraction of the cost.
---