Transferred Arc Welding
Service Detail from Joining Technologies, Inc.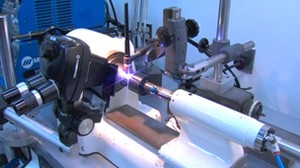 Transferred arc welding remains an important tool in solving modern joining challenges. The engineering staff at Joining Technologies stays current with the latest transferred arc technology and equipment available. Fast, reliable, safe and clean, transferred arc welding produces minimal fumes and has a relatively low cost per joint, due to its lack of consumables and minimal electricity requirements.
In a world where high energy beam sources are evolving at an accelerated pace, it's often easy to overlook more simplistic and cost effective solutions, such as transferred arc, which includes gas tungsten arc and plasma arc welding. Joining Technologies has not forgotten these more traditional, yet still highly reliable, approaches to welding. These techniques are still well suited for many critical joining applications.
---