Bevel Ball Screw Jacks
Product Announcement from Joyce/Dayton Corp.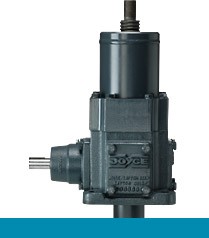 High efficiency Bevel Ball Linear Actuators from Joyce/Dayton are the original mechanical linear actuators designed for near-continuous duty operation. BB Series linear actuators provide higher speeds and less heat generation than other mechanical linear actuators, with more precise positioning and repeatability than hydraulic cylinders.
Featuring spiral bevel gear driven ball screws, BB Series linear actuators provide efficiencies up to 86%, high duty cycles, travel speeds to 48 FPM and static capacities up to 100 tons. They carry a J-10 life cycle rating with fully predictable service life expectancy.
BB Series linear actuators are ideal for either single operation or multiple linear actuator systems. Motorized versions are available; for precise positioning Bevel Ball linear actuators can operate with stepper or servo motors and other variable speed drives. Other options include limit switches, encoders, geared potentiometers, direct drive and reducer mounts, protective boots and left hand threaded screws.
Bevel Ball linear actuators also act as a miter gear box, simplifying multiple linear actuator systems and reducing cost.
Bevel Ball linear actuators come in translating screw (shown), and rotating screw (keyed for traveling nut) designs. A threaded end is standard; load pad, clevis, plain and special ends are optional.
Note: BB Series linear actuators are not self-locking, and will lower under load. A motor brake or other external locking system is required.
Ask Joyce/Dayton to evaluate your application
You have successfully added from to your part list.

Play Bevel Ball Screw Jacks Video
---