Laser Crystals
Product Announcement from KENTEK Corporation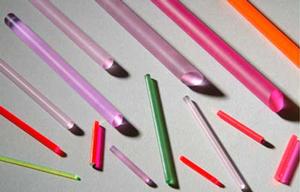 Kentek manufactures and repairs solid state laser crystals for linear and diode pumped applications. We can customize dimensions, end configurations and coatings to fit your application or you can order an exact replacement for your OEM laser. We have the tooling to mount and align crystals within holders and flow tube assemblies.
Laser Dopent Materials: Chromium, Erbium, Holmium, Neodymium, Thulium, Titanium, Ytterbium
Laser Host Materials: Alexandrite, Forsterite, Glass Phosphate, Glass Silicate, Ruby, Sapphire, Yttrium Aluminum Garnet, Yttrium Lithium Fluoride, Yttrium Scandium, Gallium Garnet, Yttrium Vanadate
End Configurations: Brewster Cut, Flat (Plano), Roof Prism, Radium, Wedge Opposing, Wedge Parallel
Coatings: Antireflection, Polish, Partial Reflection, High Reflection
Refurbishment Service: Kentek will refurbish your old laser crystals to "as new" condition, saving you hundreds, if not thousands, of dollars. Kentek has the tools, alignment fixtures and experience to service a wide variety of assembled laser crystals. Let us dismount those tricky holders from the crystal while we document the dimensions and crystal orientation.
Before processing, all crystals are inspected for internal damage and barrels are chemically cleaned to remove any contaminants that could affect pumping efficiency.
You have successfully added from to your part list.
---