Cost-Effective, Bright LITE+ Display Modules
Product Announcement from KOE Americas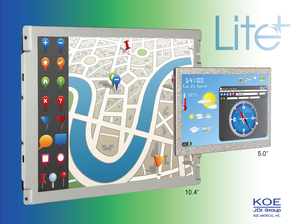 KOE Americas, the North American-based division of Kaohsiung Opto-Electronics (KOE) has introduced a new line of TFT LCD display modules, designed to combine high brightness with lower cost. KOE is the world's largest manufacturer of small to medium-sized LCD modules for industrial applications. The LITE+ line features high brightness, long-life LED backlights and high contrast ratios, offering strong optical performance and display images that are bright, colorful and clear. The new displays are ideal for devices that must perform outdoors or in any brightly lit area.
Two LITE+ display modules are available immediately: The TX13D06VM2BAA is a compact, 5.0" TFT featuring WVGA (800 x 480 pixels) resolution and a 16:9 wide aspect ratio. The 10.4" TX26D19VM2BAA has SVGA (800 x 600 pixels) resolution and a traditional 4:3 aspect ratio.
The TX13D06VM2BAA features a brightness of 1000cd/m² and a 500:1 contrast ratio. The LED backlight provides a guaranteed 50K hour half brightness lifetime. The industry standard 40-pin, 6-bit RGB CMOS interface simplifies and aids system design, supporting a color palette of up to 262k colors. The 5.0"module has mechanical outline dimensions of 120.0mm (w) x 80.7mm (h) x 8.0mm (d) (d) and supports an operating temperature range of -20°C to +70°C.
The 10.4" TX26D19VM2BAA display module has a 20?pin single channel LVDS interface that supports 8- bit RGB and enables a color palette of up to 16.7M colors. The display has an operating temperature range of -20°C to +70°C and mechanical dimensions of 243.0mm (w) x 185.1mm (h) x 9.4mm (d). Bright, clear and concise display images are achieved with a contrast ratio of 500:1 and a white LED backlight that features a brightness of 550cd/m² and a half brightness lifetime of 50K hours. If applications demand, brightness can be increased to 800cd/m² by driving the LED backlight with an increased current of 20mA, but the increase will impact LED lifetime.
Following the acquisition of Hitachi Electronic Devices-US, KOE Americas is undergoing a re-branding and re-structuring to focus squarely on creating and distributing premier display products with more flexibility to meet customer needs. KOE leads the worldwide market in the manufacture and integration of 3.5"-15" TFT LCD display modules for industrial applications---offering more consistent supply and superior quality.
KOE's LITE+ TFT displays are ideal for medical, marine, process control, gaming and industrial applications. The TX13D06VM2BAA and TX26D19VM2BAA modules are available immediately through KOE America's Sales Representatives and Distribution partners. For more information, call 770-409-3000.
Visit KOE Americas or contact us today for more details.
---