OPTIMASS 6400 CORIOLIS MASS FLOWMETER
Product Announcement from KROHNE Group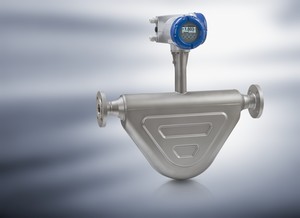 KROHNE INTRODUCES OPTIMASS 6400 CORIOLIS MASS FLOWMETER
Features entrained gas management and signal converter with advanced device and process diagnostics
KROHNE, Inc., a global technology leader in the development, manufacture and distribution of accurate, reliable and cost effective measuring instruments for the process industries, announces the new OPTIMASS 6400, an all-new twin bent tube Coriolis mass flowmeter, ideal for standard liquid and gas applications in the chemical and petrochemical, oil and gas, pharmaceutical, food and beverage, and energy and power industries. The OPTIMASS 6400 is equipped with a new signal converter that features advanced device and process diagnostics, compliant to NAMUR NE 107.
The OPTIMASS 6400 has been approved for custody transfers of both liquids and gases, making it ideal for process industries and specialist applications like LNG, CNG, or supercritical gases in terminal or storage/bunkering, along with custody transfer applications.
The new OPTIMASS 6400 is the first Coriolis mass flowmeter in the world to feature advanced entrained gas management (EGM), with no loss of measurement with gas entrainment up to 100 percent of volume. Unlike other mass flowmeters, where relative movement between gas and fluid dampens the amplitude of the measuring tube and interferes with the electronics' capability to determine the actual resonant frequency, the OPTIMASS 6400 with EGM can follow and correct for the varying amplitudes. EGM continues to present an actual measured reading, together with an indication or configurable alarm that improves processes by identifying transient gas entrainments.
Available in a range of sizes from DN 08 to 250, the OPTIMASS 6400 is offered in stainless steel 316L, Hastelloy® C22 and Duplex steel UNS S31803. Compliant to NAMUR standard installation lengths, the OPTIMASS 6400 operates in high temperatures up to 752°F (400°C), as well as cryogenic applications down to -328°F (-200°C). It also handles pressures up to 200 bar (2900 psi).
KROHNE has always been at the forefront of cutting edge electronics technology, and the new OPTIMASS 6400 is the first KROHNE mass flowmeter to feature the new MFC 400 signal converter. The MFC 400's fast, completely digital signal processing enables the EGM feature and outstanding dynamic density measurement, as well as enhanced diagnostic and status indications.
About KROHNE
KROHNE is a worldwide technological leader in the development, manufacture and distribution of accurate, reliable and cost-effective measuring instruments for the process industries. KROHNE focuses on forming partnerships with its customers to provide them with the most reliable and innovative solutions available in the marketplace. For more information about KROHNE's complete line of measuring instrumentation for the process industries, contact KROHNE at 1-800-FLOWING (978-535-6060 in MA); fax: (978) 535-1720, email: info@KROHNE.com, Twitter, Facebook, or visit www.us.krohne.com
---