High-performance meter for process industry.
Product Announcement from KROHNE Group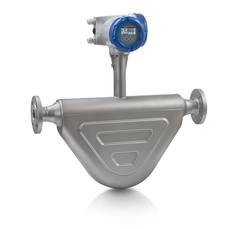 he NEW standard, high-performance meter for the process industry.
Advanced Entrained Gas Management (EGM): no loss of measurement with up to 100% gas entrainment
Cryogenic and high temperature applications from -200°C to +400°C / -328°F to 752°F
Highest accuracy for mass flow and density (pressure independent)
The OPTIMASS 6400 is a combination of KROHNE's OPTIMASS 6000 twin bent tube Coriolis mass flow sensor and the latest state-of-the art MFC 400 digital electronics. It has been designed to meet standard liquid and gas applications in a wide range of industries and is available in sizes from DN08 to DN250 and in 3 materials: 316L stainless steel, Hastelloy® and Duplex UNS31803.
Due to its superior design, the OPTIMASS 6400 provides accurate measurements even in cryogenic and high temperature applications and has high pressure capability up to 200 bar/2900 psi. It also features advanced Entrained Gas Management (EGM) which allows the meter to identify and correct for varying amplitudes from 0 – 100% gas entrainments, whilst ensuring continuous measurement and of course indicating to the user that entrainments have been detected.
Highlights
Innovative twin bent tube design
Temperature range from -200°C to +400°C / -328°F to 752°F
Optional insulation / heating jacket
Compact envelope
Optimised flow divider for minimum pressure loss
Modular electronics concept: electronics and sensor are easy to replace
Self-draining when mounted vertically
Industries
Chemical
Petrochemical
Oil & Gas
Pharmaceutical
Food and Beverage
Energy
General industry
Applications
Crystallising, solidifying and cryogenic products
Tanker loading
General purpose applications
CIP and SIP > 130°C
Liquid Natural Gas (LNG)
---