BeamClamp GrateFix for Steel Flooring
Product Announcement from Kee Safety Inc.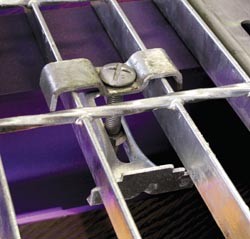 Three new GrateFix bar grating clamps to secure steel, aluminum or fiberglass grating to existing steel or supporting members are introduced by the BeamClamp safe steelwork connections division of Kee Safety, Inc. GrateFix can be installed in seconds by one person from above the grating using only an Allen Key, resulting in a simple and secure connection. No welding, drilling, or access from underneath is required.
GrateFix is available in three models: GF1 G10 ASSY is supplied with a stepped malleable iron body, 3/8-inch diameter screw and saddle clip, and features a corrosion-resistant, galvanized finish; Model GF1 S08 ASSY is constructed of 316 stainless steel and has a 5/16-inch diameter screw; Model GF3 S08 ASSY is constructed of 304 stainless steel and also has a 5/16-inch diameter screw. The stainless steel models have a narrow cast body section that will fit easily between the narrow bars of certain styles of aluminum and fiberglass grating. In addition to the standard symmetrical bracket, the stainless steel models can be supplied with alternative bracket styles to suit varying bar widths.
GrateFix eliminates the risk of corrosion damage to steel because it clamps to the grating without penetrating the steel or supporting members. In highly corrosive environments drilling or piercing the steel can create a catalyst for corrosion.
---