Box Bolt Expansion Anchor Bolts
Product Announcement from Kee Safety Inc.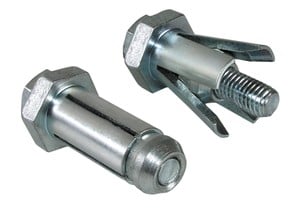 Convenient Method for Securing Structural Tube
The BoxBolt is an expansion anchor for steel that can be used to make connections to structural tube sections. It is suitable for use with rectangular, square and circular sections, or other types of steelwork where access is restricted to one side only.
BoxBolt Features
Simple Connections to structural tube
Guaranteed Safe Working Loads
5:1 Factor of Safety
Hot Dip Galvanized for corrosion protection
Available in zinc plate finish
Available in stainless steel
Large combined material clamping range
Special lengths available
Customer Service & Engineering
Kee Safety offers complete engineering services at no charge to provide extensive technical assistance and recommendations for individual problems and connection requirements. If you have an application that cannot be solved with the products shown.
Available Throughout North America and Worldwide
BoxBolt and other BeamClamp products are stocked throughout the USA and Canada. Please contact Kee Safety for your nearest distributor. BoxBolt is also available worldwide via Kee Safety offices in the UK, France, Germany and Dubai.
---