Contractor Safety Railings...OSHA-compliant
Product Announcement from Kee Safety Inc.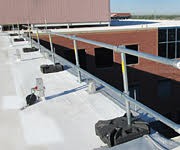 Portable Solution for Roof Edge Fall Protection
OSHA-compliant KeeGuard Contractor offers a new and innovative approach to railing systems. Although designed primarily for rooftop fall protection, portable KeeGuard Contractor has versatile use as a temporary or permanent indoor or outdoor safety railing system . Since it is free standing, there is no need for any hardware connections to the rooftop or working surface. KeeGuard Contractor meets all OSHA Standards for permanent railings, including OSHA Standard 29 CFR 1926.500.
Why use KeeGuard Contractor guardrail system?
To meet OSHA regulations for fall protection with temporary railing system
All components are galvanized, which makes KeeGuard Contractor portable railing extremely durable
Modular design makes assembly of the railing system very fast, 100 feet of KeeGuard Contractor safety rail can be installed by 2 people in an hour.
The uprights are secured in the bases by set screws, making the system solid like a permanent railing and allowing variable angle changes of direction. Assembly is easy using a torque wrench or hex key to tighten set screws to 29 lbs/ft.
A railing section consists of 2 horizontal Schedule 40 galvanized pipes and 2 vertical Schedule 40 galvanized pipes for the 42 inch uprights. The modular system has 8 foot railing sections and 5 foot return sections with a galvanized finish ensuring a long and rust-free life of the system. Powder coating in Safety Yellow over a galvanized finish is available as an optional extra.
Simple and Innovative
Each base plate has a strong galvanized finish and is supplied with a rubber pad on the underside to protect the roof membrane.
Each base plate is 20 inches in diameter and weighs 95 pounds. They are stackable which makes the system very easy to store. The base plates also have openings for an optional toeboard if needed.
Ergonomically designed handles make handling of the bases easy, and final adjustment is a snap. Four upright anchor holes make almost any perimeter configuration possible.
Ease of Transport
Above, the Kart-a-Rail™ is used for easy transport of an entire KeeGuard Contractor System and can also be used for system storage. Balloon tires make movement of the unit easy. Large eyelets bolted to the frame allow easy attachment of belts or bungee cords to keep rails in place.
A portable hand cart is also available to enable easy movement and to assist in placement of the base plates.
---