KeeGuard OSHA-Compliant Rooftop Railings
Product Announcement from Kee Safety Inc.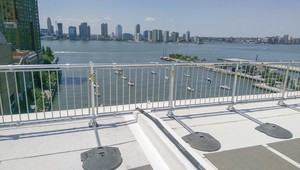 KeeGuard® site-specific engineered railing systems are independently tested to meet OSHA standards for roof edge fall protection. Featuring a modular design to conform to virtually any flat or low-slope roof, KeeGuard is easy to install, corrosion resistant, and does not penetrate the roof membrane.
Permanent Solution
Safety recommendations for the protection of maintenance personnel in countries all over the world are moving to a "hierarchy of safety" where collective fall prevention solutions, as provided by The KeeGuard® system, are preferred over singular fall protection alternatives such as harnesses and wire systems. The KeeGuard® system acts as a passive barrier and protects all personnel, even those who may access the rooftop infrequently. The KeeGuard® Roof Edge Railing System works along side your existing personal fall protection devices.
Versatility & Flexibilty

The KeeGuard® modular component system offers maximum flexibility for your rooftop configuration. Almost any flat or low slope roof up to 3 degrees can be accommodated. Your site-specific engineered KeeGuard® Fall Protection System can be used for bi-level or multi-level roofs, can be adapted to varying angle or circular configurations, and can be customized to accommodate ladderways, rooftop equipment, or other rooftop obstructions. Configurations are also available to accommodate standing seam metal roofs.
Compliance
KeeGuard® has been independently tested and meets or exceeds the following North America and International Requirements.
OSHA Standard 29 CFR 1910.23
OSHA Standard 29 CFR 1926.501, 29 CFR 1926.502
Canadian National Building Code 4.1.10.1(1)(e), 4.1.10.1(2), 4.1.10.1(4)
Ontario Building Code Section 4.1.10.1(1)(b), 4.1.10.1(2), 4.1.10.1(4)
HSG-33 Health & Safety in Roof Work
HSE Specialist Report No 15: 1988
HSE Sheet 21 "Working on Flat Roofs Protection Against Falls"
BS 6399: Part 2 1995 Wind Code
EU Directives & CDM Regulations
BGV A1: 2000, BGG 928 & BGR 184
Health, Safety & Welfare Regulation 13 "Falls or Falling Objects" 1992
NFE 85-003
EN ISO 14122: PT3
EN 13374
The KeeGuard® Freestanding System is TÜV Tested
---