KeeGuard WEIGHTANKA Fall Protection
Product Announcement from Kee Safety Inc.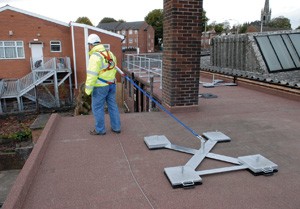 The new Kee Anchor "WEIGHTANKA" mobile anchor system from Kee Safety is a modular deadweight fall protection product that allows construction, maintenance, and facilities workers safe freedom of movement around roof areas. WEIGHTANKA is a non-penetrating, portable, deadweight anchor device designed for use on roofs with up to a 5-degree pitch where the installation of passive or collective protection, such as guardrails, or permanent anchor devices is not viable because of restricted means of safe access.
WEIGHTANKA utilizes a central pedestal (attachment point) to raise the height at which the arrest force is applied, thus reducing the distance the anchor device moves during a fall-arrest event. A basic system weighs 550 lbs., with no single item weighing more than 55 lbs. for ease of installation, and provides fall protection for one or two workers that remain at least 20 inches away from the roof edge. It is designed for use with personal protection equipment such as harnesses.
The Kee Anchor WEIGHTANKA system conforms to Class E EN 795, BS7883 & ISO 14567 standards and is the first Class "E" anchor device approved for use on all roof surfaces, including single-ply membrane, asphalt, concrete, stone chippings (brushed) and mineral felt. WEIGHTANKA features base weights fully encased in rubber molding to prevent the pads from peeling at the edges. A 10-year warranty is offered on the base weights.
WEIGHTANKA is quick and easy to assemble, utilizing a minimum of loose components, and does not penetrate the roof surface or require any structural attachments. Metal components are galvanized to BS EN ISO 1461 for corrosion resistance and long life. Kee Anchor is part of the Kee Safety line of rooftop fall protection products that also includes OSHA-compliant KeeGuard® roof edge railing systems.
---