Kee Klamp® Structural Safety Components
Product Announcement from Kee Safety Inc.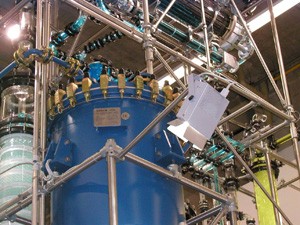 Revolutionary Connection System
Steel pipe is an inherently efficient structural component. It is strong and has no sharp corners. It can be obtained in a wide range of sizes and thickness and is freely available worldwide.
The difficulty arises in joining pipe to form structures. Threaded pipe must be supplied in set lengths and is therefore relatively expensive and inflexible in application. Welding is labor intensive and requires a highly skilled workforce.
The answer is provided by Kee Klamp structural pipe-fitting components, the basis of a rigid tubular construction system proven the world over. The underlying principle is simple but highly effective - a non-welded slip-on fitting that can be used to create versatile and rigid tubular structures.
The Kee Klamp principle has been developed and refined for more than 70 years into an extensive range of fittings that can be used to assemble all forms of tubular structures.
Innovative & Reliable
Kee Klamp pipe-fitting components are an innovative, and versatile product that are used in the construction of railings, safety barriers, racks, greenhouses, structural framework, and thousands of other uses.
Kee Klamp pipe-fitting components are installed using only a standard hex key - no threading or welding required. No headaches about hot-permits, specialized labor or equipment. No pre-fabrication of tube structures in shop - everything can be assembled and built on site.
They are also reusable should you wish to dismantle or redesign your structure. The possible applications are only limited by your imagination!
Kee Klamp® Slip-on Structural Pipe Components

The simple but effective engineering principle of Kee Klamp is the foundation of the most versatile pipe connection system available. There are many variations of fitting to suit a wide range of applications, thus providing the versatility to achieve virtually any structural configuration.
Kee Klamp components are iron castings manufactured to the requirements of ASTM A47-77-32510. A range of fittings to suit eight sizes of pipe is available. Hex set screws firmly lock the pipe into the fitting. Set screws are manufactured in case hardened steel and are protected against corrosion by Kee Koat®.
A Kee Klamp fitting (size 5 to 9) can support an axial load of *2000 lbs. per set screw with the set screw tightened to a torque of 29 lbs./ft. This is normally obtained when the set screw is fully tightened using a ratchet wrench. (*rating includes a safety factor of 2:1)
Health & Safety
No Kee Klamp structural safety components have been found to be hazardous within the meaning of current OSHA Regulations, assuming that the materials are cut and assembled using normal pipe cutters, saws and hexagonal tools.
Kee Klamp structural safety components are designed so that the need to weld is avoided - an added safety element since the welding process does have OSHA implications, especially if the pipe is pre-galvanized or has any other pre-finish.
Kee Klamp structural safety components in Sizes 7, 8, and 9, when used to construct a 42' High Guard railing, will meet the requirements of the OSHA Safety Standard of a single 200 lb. load applied at any location along the top of the rail when the correct specification of pipe is used and the correct method of design is employed. The integrity of the structure to which the system is fixed and the fixings used will need to be inspected to ensure that they are capable of meeting the imposed load requirements.
---