Separating People from Hazards
Product Announcement from Kee Safety Inc.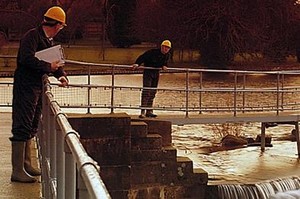 Fall prevention, roof edge protection, barrier and guard rail systems around the world. From handrails to assist the disabled to roof top walkways, from Niagara Falls to Madrid Airport Kee Safety protects people and personnel. SCROLL DOWN TO SEE VIDEO OF OUR KEEWALK
Our products are used to protect people in many applications and countries around the globe. We serve every size customer and client, and provide solutions for every project. Our products are tested and approved to meet the requisite national standards, be they for roof edge fall protection or skylight fall protection or ADA / DDA handrails for the disabled. No handrail project is too big, or safety railing too small for Kee Safety.
Specifically developed for skylight fall protection, KEE DOME is a free standing guardrail system which does not penetrate the roof membrane. Supported by recycled PVC weights, this product provides an easily constructed skylight barrier which can remain as a permanent fixture or be easily dismantled and moved elsewhere.
The KEE ANCHOR portable dead weight man anchor system is designed for use where collective protection is not a viable option. KEE ANCHOR has been designed to provide a safe working environment where either fall arrest or fall restraint is required. The basis of our system is the WEIGHTANKA dead weight product which is suitable for use on a number of roof surfaces. Additionally this can be used to link a horizontal safety line between numbers of base systems to which a worker can attach for safe access along a roof; this being known as our WIREANKA system. The dead weight also forms the platform from which ACCESSANKA can be attached which offers a safe portable product for rope access workers to abseil down buildings. The KEE ANCHOR product family offers a cost effective solution to working at height.
Our Fall Protection portfolio also includes a range of safety eyebolts KEE IBOLT and a range of of anchor points for flat and pitched roofs KEE ROOFPOINT. There is also a free standing demarcation system KEE MARK, which is ideal for temporary situations.
Two recent introductions to the personal fall protection portfolio have been KEELINE a horizontal life line system and KEE WALK a roof top walkway.
We invite you to visit our website via the links about to learn more about ways that Kee Safety Separates People from Hazards
---