Smallest Diameter Media-Isolated Level Transmitter
Product Announcement from Keller America, Inc.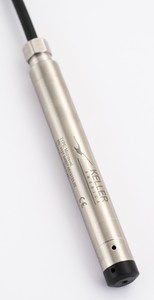 The Microlevel by Keller America is the smallest level transmitter in its class, housed in a 0.63" diameter while providing standard features that exceed the higher priced competition. It comes standard with ±0.25% FS (±0.1% optional) Total Error Band over the range of 0- 50° C resulting in higher accuracy and more reliable data in real world conditions.
The versatile Microlevel is available in custom pressure ranges up to 900 ftWC. And, unique to this class of instrument are the Microlevel's dual outputs (4…20 mA analog + RS485 digital) that can both be used for level measurement. The RS485 interface can also be used to monitor changes in temperature.
The ability of the Microlevel to achieve this performance day after day, over a wide range of operating conditions, makes it ideally suited for water and wastewater monitoring applications that demand small size and high performance. To learn more about the New Microlevel and other Keller products, call 800-253-5537, visit www.kelleramerica.com, or email sales@kelleramerica.com . Keller America Inc. 351 Bell King Rd, Newport News VA, 23606
---