New autonomous level logger for very low ranges
Product Announcement from Keller America, Inc.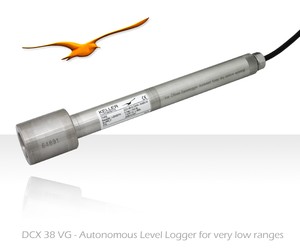 The internal electronics of the DCX-CAPA employ the latest microprocessor technology, resulting in high accuracy and resolution for both pressure and temperature measurements. The use of non-volatile memory for data storage ensures high data security.
The DCX-CAPA is based upon a relative pressure sensor and is designed for submersible deployment. Through the use of a vented cable, correction for atmospheric pressure variations is automatic. Therefore, the expense of deploying additional instruments for monitoring barometric pressure is avoided.
The reference pressure tube, integral to the waterproof cable, is protected from moisture intrusion through the use of an optional desiccant tube connected to the adapter nozzle, located in the data port. For remote installations where desiccant maintenance is impractical, an optional aneroid bellows may be used, with some degradation of accuracy.
Configuration / data retrieval
For data readout, the serial interface is accessed via the data port located on the end of the cable, enabling on site data retrieval. Using either the K-104A or K-103A converter cables, the DCX-CAPA connects easily to a laptop or PC via USB or serial port. Used in conjunction with Logger 4.X software, the DCX-CAPA is easily configured and data retrieved either in the lab or the field.
For more infomration on this, or any other Keller product, visit www.kelleramerica.com, email sales@kelleramerica.com, or call 877-253-5537.
---