Lift Station Submersible Level Transmitter
Product Announcement from Keller America, Inc.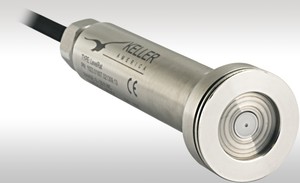 The Keller LevelRat is an affordable lift station level transmitter with a non-fouling, flush Kynar diaphragm, specifically designed for applications that would clog or foul a conventional level transmitter. The LevelRat thrives in nasty environments common in sewage lift stations and other greasy/slurry installations. The Kynar diaphragm provides superior durability and abrasion resistance as compared to competing models, and the dual outputs (analog & digital) facilitate connection to new or existing SCADA, PLC, or MODBUS RTU infrastructure. It also allows for connection to a PC for real-time pressure/temperature monitoring, and adjustment of the analog output to ensure continuing compatibility as your application requirements change.
When equipped with a 4-20 mA analog output, the LevelRat includes Keller's guaranteed lightning protection. This feature is included at no additional cost and carries a lifetime warranty against damage from electrical surge.
All Keller America level and pressure transmitters, including those with guaranteed lightning protection, are available for shipment within 3 business days. Contact Keller America at 877-253-5537 or at sales@kelleramerica.com. You may also visit www.kelleramerica.com for more information.
---