Piezoresistive OEM Pressure Transducers
Product Announcement from Keller America, Inc.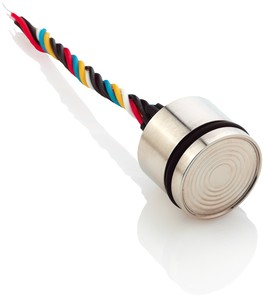 The transducers are designed for floating O-ring seal mounting, this avoids housing induced stress, and guarantees the performance over pressure and temperature as tested in our auto­matic test chambers. Each transducer comprises of a piezoresistive silicon chip mounted on a glass-metal feed-through header welded into a stainless steel housing and filled with silicone oil, the very thin laser welded stainless steel isolation diaphragm completes the front side. Media pressure is transferred from the stainless steel isolation diaphragm, via the oil inside the cell, to the silicon measuring chip.
With the laser welded technology, transducers having diameters as low as 9,5 mm can be rea­lised. Diameter is to some extent dependent upon the pressure range measured, low pressures require larger diameters, higher pressures can be achieved with smaller diameters. This is due to the expansion of the oil under temperature that creates an internal pressure due to the re­sistance of the diaphragm. The smaller the diameter, the higher the internal pressure and the more difficult is the zero compensation.
Each transducer is supplied with a calibration sheet indicating sensitivity, linearity, zero offset, temperature errors and the compensation resistors to substantially reduce zero offset and zero temperature errors.
---