Pressure Calibrators
Product Announcement from Keller America, Inc.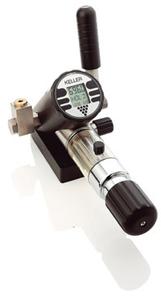 Keller produces many complementary accessories that enhance the usability of our pressure transmitters, including portable pressure calibrators, complete with digital pressure indicators and hand-operated low and high pressure pumps. Available in ranges from vacuum to 700 bar, these calibrators are completely self-contained and can provide power to the transmitter being calibrated, making possible field calibrations in remote locations where power is not available. Specific versions also include a datalogging function, enabling the technician to retain a record of actual data that can be subsequently downloaded and made a part of the permanent calibration record.
These Pressure Calibrators from KELLER are very precise calibration instruments for the calibration of pressure transmitters, pressure switches and pressure gauges.
The Low- and Medium ranges are pneumatic, and the High ranges are hydraulic. The portable housing incorporates the pressure generating pump, a high precision reference sensor and the measuring electronics.
The transmitter under test is connected to the pressure port of the calibrator and the signal is read out directly on the display. Various internal functions and performance features assist the user in many different measuring tasks. In addition, the serial interface allows the transfer of the measured data onto a PC for further processing. The calibrator, including accessories, is supplied with a robust carrying case and is ideal for outdoor, on-site use.
To meet differing requirements, two basic versions of the calibrator are offered.
About Keller America:
Keller America is the North American subsidiary of Keller AG für Druckmesstechnik, which for over 30 years has been leading the level and pressure sensor industry through continuous innovation. Success first came as a supplier of sensors to established OEMs, many of whom are still customers today.
Today, with the advent of inexpensive, miniaturized microprocessors, Keller continues to advance the state-of-the-art in fully packaged pressure transmitters, with Total Error Band performance not possible just a few short years ago. Annual sensor production now exceeds 1 million pieces.
Please click on the links to the right for more information or request a quote today!
---