Pressure Pumps
Product Announcement from Keller America, Inc.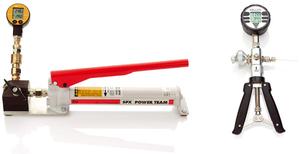 Among the many complementary accessories that enhance the usability of our pressure measurement products are our low, medium and high pressure pumps. These pumps can be used in conjunction with a secondary standard to provide accurate calibration pressures ranging from vacuum to 700 bar. Low and medium pressure pumps utilize air as the fluid and high pressure versions utilize inert calibration oil. All pumps include a fine adjust feature to enable precise pressure settings.
Features:
Simple, independent pressure generation
From suction-pressure up to 700 bar
Carrying case included
About Keller America:
Keller America is the North American subsidiary of Keller AG für Druckmesstechnik, which for over 30 years has been leading the level and pressure sensor industry through continuous innovation. Success first came as a supplier of sensors to established OEMs, many of whom are still customers today.
Today, with the advent of inexpensive, miniaturized microprocessors, Keller continues to advance the state-of-the-art in fully packaged pressure transmitters, with Total Error Band performance not possible just a few short years ago. Annual sensor production now exceeds 1 million pieces.
Please click on the links to the right for more information or request a quote today!
---