Custom Vibration Isolators and Machine Mounts
Product Announcement from Kellett Enterprises, Inc.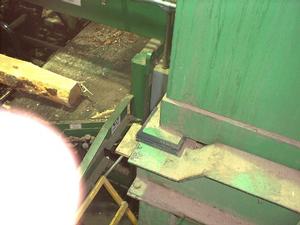 Click here to watch a short video about Kellett Enterprises and our products. Visit our website: www.kellettent.com. View technical documents and test data: http://www.kellettent.com/technical.html
Vibration is isolated when you place a composite material between the source of vibration – your equipment - and the support structure for that equipment. Vibration isolation decreases the vibration transfer between the equipment and the equipment's support structure.
Vibration in one piece of equipment can adversely affect the functions of other equipment that surrounds it. In extreme cases, when equipment is not properly isolated, structural damage can occur. We designed the Kellett LP-13 Shake Absorber® Vibration Isolation Pad to isolate these vibrations and return your equipment to peak performance levels. A plant manager at Collum Lumber Company in Allendate, SC states, "Our problem was not a steady type of vibration but rather an impact type of shock, typical of lumber mills. This constant shock impact was destroying our PC screen monitors and PLC I/O card connections. The operator cabs were originally mounted on the standard rubber pads, but they were not very effective. We did mount one of the cabs on a set of airbags. However, that was a costly solution and they were susceptible to leaks. We installed the LP-13 Shake Absorber® Machinery Mounting Pads under our one of operator cabs, which has significantly reduced our impact vibration. The cab stills moves, but now it is smoother in motion. Since our test was so successful, we have installed the LP-13 pads under another operator cab and a large size cab used as a computer room."
The image on this page shows the LP-13 installed under one of the operator cabs at Collum Lumber.
A research scientist in Iowa shares his story: "Our precision laboratory scales were drifting as much as 7/100 grams due to vibration. This made them useless for our application. After simply setting the scales on two 3/4 inch sheets of Shake Absorber, the drift dropped to 2/10000 grams. This effectively eliminated 99.997 percent of the vibration."
Heat causes the majority of damage to electrical and electronic components. Heat builds up in an electrical circuit when there is a poor connection between conductors. Vibration is often the culprit. Vibration can loosen the electrical components, causing circuits to over amp, and ultimately generate excessive heat. The worse case scenario is component failure.
Capabilities
Our pads are custom cut – not custom priced – to your specifications. Since we design all of our pads to address your individual situation, we have the capability of performing JIT delivery. Using templates, CAD drawings or any form of information you have, we work with you one-on-one to isolate the issue.
The LP-13 Shake Absorber® is available in four thickness options: 3/8", ½", ¾", and 1", and is cut to your specifications or can be purchased in sheet stock, which can then be cut at your facility using a carbide tip sawblade.
How Do We Do It?
Our technical and sales teams work with you to determine the appropriate size for your application. We gather several important clues from you to do this:
The number and size of feet or "legs" on your equipment or machine
The weight of the equipment or machine
Its current RPM's
Floor and building structure where the equipment resides
Materials/Composition
The properties that set the LP-13 Shake Absorber® apart from ordinary vibration pads consists of a recycled layer of plastic or Acrylonitrile Butadiene Styrene (ABS) between two layers of very tough, but flexible custom blended neoprene. The cushion dampens machine vibration while the ABS evenly distributes the weight of the machine throughout the pad. We measure our custom blended neoprene using the Shore "A" Durometer scale and ranges from 40 to 80 Shore "A" Durometer. Your individual application dictates your range.
Visit our website at www.kellettent.com to learn more and thank you for visiting Kellett Enterprises, Inc on GlobalSpec.
You have successfully added from to your part list.
---