Shock and Shake Absorbers
Product Announcement from Kellett Enterprises, Inc.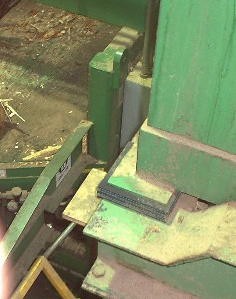 Click here to watch a short video about Kellett Enterprises and our products. Visit us online at www.kellettent.com. View our technical documents and test data at: http://www.kellettent.com/technical.html
Due to the large number of applications for bumpers, shock and shake mounts and shake absorbers, we work with your specs to manufacture the right pad for your application, usually at a significant savings over standard OEM (Original Equipment Manufacturers) replacement parts.
Read what one customer had to say about our LP-13 Shake Absorber Pads: "Our problem was not a steady type of vibration, but rather an impact type of shock, typical of lumber mills. This constant shock impact was destroying our PC screen monitors and PLC I/O card connections. The operator cabs were originally mounted on the standard rubber pads, but they were not very effective. We did mount one of the cabs on a set of airbags. However, that was a costly solution and they were susceptible to leaks. We installed the LP-13 Shake Absorber® Machinery Mounting Pads under our one of operator cabs, which has significantly reduced our impact vibration. The cab stills moves but now it is smoother in motion. Since our test was so successful, we have installed the LP-13 pads under another operator cab and a large size cab used as a computer room." Plant Manager at Collum Lumber in Allendale, SC
CAPABILITIES
Our pads are custom cut – not custom priced – to your specifications. Since we design all of our pads to address your individual situation, we have the capability of performing JIT delivery. Using templates, CAD drawings or any form of information you have, we work with you one-on-one to isolate the issue.
The LP-13 Shake Absorber® is available in four thickness options: 3/8", ½", ¾", and 1", and is cut to your specifications or can be purchased in sheet stock, which can then be cut at your facility using a carbide tip sawblade.
How Do We Do It?
Our technical and sales teams work with you to determine the appropriate size for your application. We gather several important clues from you to do this:
The number and size of feet or "legs" on your equipment or machine
The weight of the equipment or machine
Its current RPM's
Floor and building structure where the equipment resides
Materials/Composition
The properties that set the LP-13 Shake Absorber® apart from ordinary vibration pads consists of a recycled layer of plastic or Acrylonitrile Butadiene Styrene (ABS) between two layers of very tough, but flexible custom blended neoprene. The cushion dampens machine vibration while the ABS evenly distributes the weight of the machine throughout the pad. We measure our custom blended neoprene using the Shore "A" Durometer scale and ranges from 40 to 80 Shore "A" Durometer. Your individual application dictates your range.
Thank you for visiting Kellett Enterprises, Inc on Global Spec.
You have successfully added from to your part list.

Play Shock and Shake Absorbers Video
---