Product Announcement from KEYENCE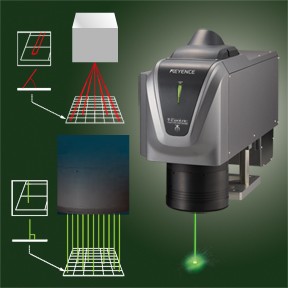 The new Telecentric MD-T1000, 532nm green wavelength laser marker, introduced by KEYENCE, joins the company's product line of high performance laser marking systems as its most innovative marker to date.
Combining high peak power, a telecentric lens, 532nm green wavelength laser and a 20um diameter beam make the MD-T the ideal choice for a wide array of marking applications. In the electronics, semiconductor and medical industries, discrete marking of identification codes, trimming of resistive materials and even some precision cutting applications are routinely required. The high precision and accuracy of the MD-T allows for marking characters as small as 30µm x 30µm and 2D barcodes as small as 200 µm x 200µm.
The marker's telecentric lens, with a viewing angle of virtually 0 degrees, guides a 20μm (0.79 Mil) SHG diameter laser beam with advanced control technology and unparalleled accuracy, that until now, could not be attained with most conventional laser markers. Consistent perpendicularity to the marking surface assures that every mark, from the center of the marking field to the outermost edges of the target, is made perpendicular to the surface being marked. This eliminates beam shape distortion and unintentional defocusing, a common problem with conventional systems that use F-Theta lenses resulting in the beam sweeping at an angle across the target surface.
Another function, distinguishing this laser from the ordinary, is a built-in camera that uses the MD-T's same telecentric lens to view the marking area and can be used to calibrate and adjust marking alignment. The camera port, concentric to the path of the laser beam, allows for zero angle distortion. Additionally, the built-in camera can be removed from the port and a standard C-mount camera system of the user's choice, can be installed. This allows for a vision system which can perform custom inspections that can be easily integrated with the system. The unique combination of power, accuracy and functionality make KEYENCE's MD-T1000 a revolutionary laser system.
You have successfully added from to your part list.
---