Product Announcement from KEYENCE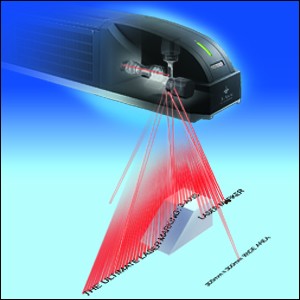 The newly developed 3-axis simultaneous laser control system enables not only traditional X-axis and Y-axis laser controls but also Z-axis control. The ML-Z creates precise marking and reduced deformation on targets with varying surface shape and height, while at the same time improving the accuracy of marks on large flat surfaces. This dramatic improvement in marking quality puts the ML-Z9500 years ahead of the competition.
Major features of the new ML-Z9500 include:
3-axis laser marking-world's first
High accuracy marking can be performed on any shaped target without worrying about character distortion or displacement.
42 mm focal length-world's first
Installation is simplified by eliminating mechanical stages previously required to mark targets having different heights. There is no need to adjust the height of the marker or adjust the height of varying height targets. The 42 mm focal length of the ML-Z is 6 times greater than conventional laser markers.
Variable spot size-world's first
Character width and position can be kept constant for exceptionally sharp, crisp marking.Traditionally, the spot size at the center and edge of the marking area were different due to the artificial plane created by the F0 lens. The ML-Z solved this problem with 3-axis laser control. High accuracy marking on a large, flat surface is guaranteed because of the uniform spot size.
300mm x 300mm marking area-world's first
A single, 3-axis CO2 laser marker covers a 300mm x 300mm marking area. The marking area of the ML-Z is 7 times that of conventional laser markers. This capability eliminated the need to use multiple marking heads.
High-speed 30W output-best-in-class
12,000 mm/sec ensures that the ML-Z can match the speed of any fast moving production line. Fine cuts can be made over a wide area with extreme accuracy. The ML-Z Marker employes a finely focused laser beam to ensure stable energy density throughout the cut. Deep or rounded cuts are difficult for traditional systems, however, the ML-Z's large focal range of 42mm guarantees a clean cut on thick targets.
Superior marking control on fast moving targets.
The ML-Z9500 precisely marks characters on rapidly moving flat or curved surfaces. The deep focal range of the ML-Z means that there is no need to adjust for varying product sizes, reducing overall tact time. This allows the maximum performance of the marking head to be utilized in a wide range of applications.
You have successfully added from to your part list.
---