Product Announcement from KEYENCE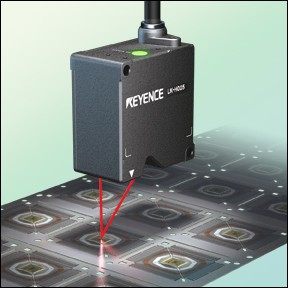 RS-CMOS Sensor
KEYENCE introduces theLK-G5000 Laser Displacement Sensor now with a RS-CMOS sensor that provides an 392 kHz sampling rate that's 8 times faster than previous models, with ±0.02% Full Scale Linearity and 0.01µm repeatability. Smaller than previous models, it mounts easily in production environments where space is often tight. The need to increase production and inspection speeds and improve product quality makes it even more necessary to provide a high performance measurement sensor like the LK-G5000. New technology incorporated in the LK-G5000 stably captures displacement of moving or rotating targets with high linearity.
Active Balanced Laser Control Engine
KEYENCE's proven ABLE (Active Balanced Laser Control Engine) control is now even more powerful. ABLE II intelligently optimizes the RS-CMOS sensor capability by balancing the three elements of laser emission time, laser power, and gain. Furthermore, ABLE II has a high-speed tracking ability that is eight times faster than conventional models.
Dual-port data transfer
Dual-port data transfer using a quad speed clock, enables pixel data to be transferred eight times faster than conventional models thus simultaneously achieving high-speed and high-resolution. A newly developed HDE lens* together with twice the pixel resolution,result in highly-defined received light wave patterns.
Higher Accuracy and Repeatability
New techologies in the LK-G5000 achieve higher accuracy and repeatability for today's challenging applications. Three selectable built in algorithms improve the application solving potential.
Measure Any Surface, Any Material
A translucent object can cause a diffuse reflection beneath the surface when the laser beam penetrates inside the object and the received-light wave pattern gently broadens. The Real Peak Detect (RPD) algorithm is able to detect the "Real Peak" by canceling the impact of the broadened wave patterns.
Center and Peak Composition (CPC) Algorithm
Multi-Able Control for transparent targets optimizes the laser intensity by sensing and adjusting to the reflected light for each layer of a transparent object. High accuracy is accomplished because the measurement is not affected by each layer's reflectivity. The Center and Peak Composition (CPC) algorithm for high luster resins attains more stable high-definition measurements by combining two wave form patterns of reflected light from the target. One wave form is a result of the highly reflective surface while the other is a result of light reflected from beneath the surface.
Add Up To 12 Sensor Heads
Added capabilities include the ability to perform calculations for up to 12 sensor heads for flatness, warpage and multi-point thickness. As an added bonus, KEYENCE has included the ability to measure speed and acceleration while measuring displacement.
Click here for more details and download product specifications.
You have successfully added from to your part list.
---