KO1D0 Cube Transfer
Product Announcement from KieTek International, Inc.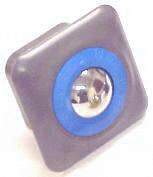 The Cube Concept was designed to fit steel grating, fiberglass grating, cut, stamped, and machined metal. This design is intended for a metal bottom pallet or container to be conveyed over the bed of this product. Manual material conveyance of all palletized freight is moved on this product. There are two cube products, ball transfers and rollers, and each offers two models. NOTE: The Cube Concept installed in the fiberglass grating has a significant noise reduction when air cargo containers are conveyed over their surface when compared to metal decks.
The omni-directional Cube Ball Transfer Unit (BTU) is manufactured with the same high quality as the Round Thermoplastic Housing BTU. The load capacity is 400 lb. The KO1D0 BTU is warranted for two years.
KO1D0 BEST

Square Thermoplastic Housing Ball Transfer Unit (Old part # K0050)

Specifications:

Injection molded thermoplastic housing
1.1875" Diameter 440c stainless steel main ball
Heat-treated stainless steel bearing cup
1/8" 440c Stainless steel carrier balls
400 Series bearing race
Thermoplastic retainer cap (Blue)
24-Month Warranty
100% USA Labor and Materials
---