Polymer Bearing Assemblies from Kilian
Product Announcement from Kilian Manufacturing Corp.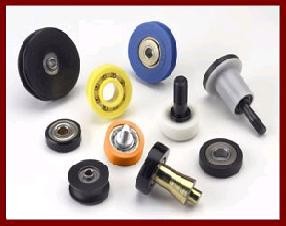 Polymer Bearing Assemblies from Kilian:
Features and Benefits of Polymer Assemblies
Kilian has successfully used engineered polymers, or plastics, in a variety of automotive, aircraft, agricultural and industrial bearing applications
Polymer designs reduce wear and friction, survive environmental extremes, abate noise and reduce weight while maintaining bearing performance requirements and price constraints
Kilian's knowledgeable engineers are familiar with many, various grades of nylons, acetals, thermoplastic elastomers, polyurethanes and rubber products in bearing design
Fillers such as glass, mineral, PTFE, or electrically conductive additives further enhance the performance of Kilian polymer bearing designs
Kilian Manufacturing Corporation offers a wide range of bearing design solutions. We also offer a selection of standard bearings or we can create a specific design to match your exact application needs. For a complete listing of Kilian bearing products including design modification ideas - click here.
If you are an OEM or Distributor and your need is 5,000 bearings or more, please contact us at the numbers listed below.

If you are an individual, or have a need for a small number of bearings, or replacement product, please contact the original equipment manufacturer, or your local bearing distributor. List of Distributors
Phone:
Customer Service - 315.432.0700
Sales & Engineering - 315.432.0700
Fax : 315.432.1312
Email: sales@KilianBearings.com
Mail:
Kilian Manufacturing Corp.
PO Box 6974
1728 Burnet Avenue
Syracuse, NY 13217
---