Electronic Manufacturing Services (EMS)
Service Detail from KimchuK, Inc.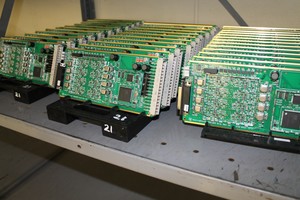 PCB Assembly
KIMCHUK Electronic Manufacturing group is a world class, fully integrated manufacturing organization, offering complete printed circuit board assembly including through hole, surface mount and mixed technologies. Our automated systems are capable of handling the latest designs in both flexible and rigid circuitry and can place a range of package types starting at 01005 and including fine pitch and ball grid arrays. Our 35 + years of experience allows us to process single, double and multi-layer PCB's and our state of the art tracking system offers the customer a detailed timeline of their product's manufacturing process.
Our organizational platform is committed to the Lean Initiative and our procurement team offers systems that span from our FasTrak Program for prototyping, to our Quote/Buy System for heritage and end-of-life product lines. We also process consignment orders with strict inventory control and tracking of customer property. Every project is closely monitored by an individual Program Management Coordinator and each account is overseen by a member of our Executive Team.
KIMCHUK INC, is a fast paced, high tech, high product mix electronics firm specializing in Engineering Design and Electronic Contract Manufacturing Services. Our success depends on CUSTOMER SATISFACTION achieved by safely producing reliable products, delivered on time, at a competitive price. Quality is a vital element in accomplishing this goal through employee involvement and continuous improvement at all levels of the organization.
For 35+ years KIMCHUK has been a valuable resource to the electronic manufacturing community by offering a complete array of services. No one knows your business or the realities of your market better than you. However, when it comes to electronics assembly, no one can help meet those realities more efficiently and cost effectively than KIMCHUK as your experienced contract manufacturer.
MINIMIZE INVESTMENT Our design and manufacturing equipment is already in place. Staff is in-house, trained and certified. Your capital is set free for R&D or high priority items.
REDUCE MATERIAL COSTS We combine customer requirements for volume component purchases. Cash flow is more predictable and tied to the regularity of orders vs. expenses.
SHORTEN DEVELOPMENT CYCLES Our in-house design services enhance communication between engineering, manufacturing and test requirements. Projects move fluidly through design and production.
EXPERTISE More than 40+ years of experience in engineering design and contract manufacturing. Exposure to a wide variety of products and customer techniques makes us flexible as well as highly competent.
GUARANTEED QUALITY Quality is built into your product… starting from design review - to manufacturing and test - to complete warranty programs.
KIMCHUK INC supports a variety of United States Military and Government projects and we are ITAR trained and registered. Our procurement program has extensive expertise in handling QML, JAN and MIL PRF product as well as valued added services required for military component procurement. We offer both tin mitigation and specialty lead forming. We have an established UID labeling system with expertise in both batch / lot and component traceability.
KIMCHUK engineers and manufactures medical and medical support products and has taken programs from design through to UL and FDA approval and are ISO 13485:2003 registered. We have been instrumental in design, clinical trial field testing, 501k submissions and FDA audits.
Our established systems offer complete batch/lot and device traceability as well as revision and engineering change controls. Our staff is trained in device installation and acceptance, control of nonconforming material and other EC directives for medical devices.
KIMCHUK INC has dedicated 35+ years of experience to the safety and security industry. We have supported the development and manufacturing of a variety of products including carbon monoxide detection and control systems, sniper detection systems, fuel and water monitoring and control systems, access/egress monitoring and control systems, anti-theft tag detection, passive infrared presence detection, counterfeit fluid detection systems and laser communication systems. For the military, safety and security markets, we manufacture a tunnel detection system that can detect digging and other seismic activities reporting via direct or satellite connection to central monitoring.
KIMCHUK INC designs and manufactures a wide variety of products for both nuclear and non-nuclear energy markets allowing our customers to offer safe and cost effective energy alternatives. In the non-nuclear market, we manufacture products for safety critical communications, standby power monitoring, switching and control systems, battery back-up systems and fire monitoring systems.
In the nuclear market, KIMCHUK has reverse engineered many critical nuclear designs, which would otherwise be obsolete, utilizing today's component market availability. We have refurbished shelf life expired spare PCB assemblies and have designed replacement monitoring systems. KIMCHUK manufactures Reed Switch Position Transmitters (RSPT) which detects the position of the neutron shields surrounding the fuel rods in a nuclear reactor. We also manufacture the Rod Control Cabinets, the safety critical cabinets and a plethora of other nuclear control systems.
We have available dedicated work environments and offsite warehousing; our processing and quality systems implement both component and batch/lot traceability.
Over the past 35+ years, KIMCHUK INC has aided the telecommunication industry in both engineering and manufacturing state-of-the-art product that allows our customers to stay one step ahead of their competition. Our FasTrack system processes a prototype in 3-5 days. Our Solid Model Printing (FDM) gives our customers the opportunity to test product designs inexpensively and efficiently. And our Robotic Deposition supports long term manufacturing with reliable and consistent end product.
KIMCHUK manufactures critical communication systems both wire and optical, telephone PBX and control PCBs, laser communication systems, predictive dialing systems, TDM over IP, Voice over IP, Ethernet and fiber optic communication systems.
Our fulfillment program allows our customers to invest their time in state-of-the-art competitive designs while we manufacture warehouse and drop-ship to their end users.
KIMCHUK is capable to design, prototype, qualify, procure, manufacture, test, inventory, deliver, warrant and repair your products. KIMCHUK is a reliable extension of your company when you need contract manufacturing and engineering design services.
---