FlexStream Gas Standards Generator
Product Announcement from Kin-Tek Laboratories Inc.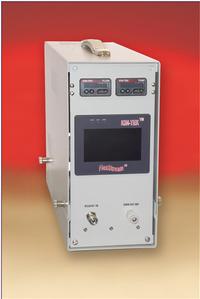 KIN-TEK's FlexStream™ automated gas standards generating instrument offers flexibility for creating precision gas mixtures. Mixtures are produced by diluting the emission from permeation tubes, or diffusion tubes, with an inert diluent, typically nitrogen or zero air. The FlexStream™ is ideally suited for creating trace concentration - ppm, ppb, and pptr - mixtures. The FlexStream™ is built around a microprocessor-based stand-alone Permeation Tube Unit. This unit provides a temperature-controlled permeation tube oven, front panel touch-screen interface and dilution mass flow control. The FlexStream™ is easily transportable and can integrate with other KIN-TEK gas mixing systems (contact the Factory). Mixtures containing up to 8 components are possible. The FlexStream™ can use all KIN-TEK Trace Source™ permeation and diffusion tubes.
Features include:
Complete, integrated, ready-to-use turnkey system
Automated operation with direct readout of concentration
Modes of Operation: standby, zero, span and purge
Touch-screen interface for local setup and manual control
Modbus connectivity for integration with existing systems
Designed for expandability
Flow path designed for maximum flexibility with minimum error
Flow path suitable for reactive gases - mixture contacts only glass, Teflon® and stainless steel (other materials available)
Accepts disposable permeation tubes, diffusion tubes, ultra-high rate liquid filled tubes, wafer tubes, and prefilled gas fed permeation tubes
Accepts up to 8 disposable tubes with maximum 6 inch length x 1/4 inch diameter (KIN-TEK HRT, SRT and EL tubes)
Accepts one of KIN-TEK refillable LFH, ULED and 57 Series tubes
High mass oven with electronic PID control
Temperature Control Range: 5 ºC above ambient from 20 to 150 ºC (heat only)
Temperature Setpoint Resolution: 0.01 ºC across control range
Temperature Display Resolution: 0.01 ºC on front panel touch screen
Standard Flow Range: 0.25-5.0 liter per minute
Optional Flow Ranges: 0.1-0.5, 0.1-1.0, 0.5-10.0 liter per minute
Flow Control over Calibrated Range: ≤ ±1.5 % of reading
Flow Change - 0 to Full Scale: < 10 sec (2 time constants)
Mode Change - Zero at 1 lpm to Span at 1 lpm: < 5 sec (2 time constants)
Output Concentration Range: below 1 ppb to over 1000 ppm depending on emission rate and dilution flow rate
Local Interface: color touch screen display with virtual keypad
Remote Interfaces: RS-232 and Ethernet
Communication Protocol: Modbus RTU
Room Operating Temperature Range: 0 to 50 °C (room temperature must be maintained at least 5 °C below permeation tube temperature and no higher than 50 °C)
Room Operating Humidity Range: 0 to 95% noncondensing
Storage Temperature Range: -40 to 60 °C

Storage Humidity Range: 0 to 95% noncondensing


Diluent Inlet Pressure: 50 psig regulated (customer-provided)
Span Gas Outlet Pressure Range: 0 to 20 psig


Power Requirements: Standard: 110 to 125 VAC, 60 Hz, 2 A
Power Requirements: Optional (specified at time of purchase): 220 to 250 VAC, 50 or 60 Hz, 1 A


Dimensions: 7.5 inch Width x 13.5 inch Height x 20 inch Depth (add 3.5 inch to Depth for front panel inlet filter clearance)
Weight: 30 lb
FlexStream™ benefits include:
Technical
Trace concentration mixtures for reactive compounds
Applicable to a wide range of compounds

PPM and PPB mixtures with single step dilution
Calibration even for some reactive mixtures
Dynamic blending - immediate use eliminates storage degradation
Simplifies complex mixture preparation
Concentrations traceable to NIST (through physical variables)
Operational
Simple operation
Automated calibrations
Economic
Save space - one unit replaces many gas cylinders
Reduce cost of multi-point calibration
Safety
Replaces high pressure gas mixture
User deals with only very small quantities of analyte compounds
You have successfully added from to your part list.
---