Product Announcement from Kingbright Corporation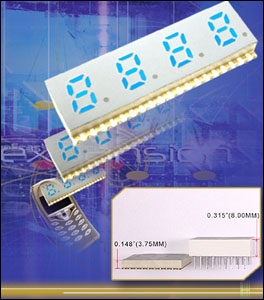 The LED display industry is restlessly evaluating itself to search for new technology that will improve the reliability and maneuverability of LED display products. With advancements in technology and the manufacturing process, SMD LED displays have taken a dynamic role in the LED display market. Kingbright enhanced the SMD LED display technology by developing the 0.4" character height Blue SMD LED Display that offers remarkable benefits such as additional flexibility in sizes and color, higher reliability, improved efficiency and significant cost reduction to the production phase.
Dual Blue SMD LED Display offers a complete solution to designers requiring brilliant and crisp displaying features with high maneuverability. In addition to its dual nature, the item is available in alphanumeric and single digit APSA series with blue color selection; thus, rejuvenating the designer's creativity that was drained by the physical limitations of the existing leaded LED displays widely circulated in the electronics industry. At a thickness as thin as 0.148", Kingbright Dual Blue SMD LED Display's lightweight and low profile design coupled with its vivid and crisp displaying capability make handheld testing devices, instrumental equipment, and consumer electronics smaller, lighter, and flashier. It also reshapes the landscape of the LED display arena.
Contract Manufacturers can take full advantage of the Dual Blue SMD LED Display's industry standard, antistatic, automation-ready tape and reel package. This enhanced feature is compatible with automatic pick-and-place machines which drastically reduce the assembly time and manual labor involved in the production process. Moreover, the robust design of Dual Blue SMD LED Display is highly resistant to the harsh assembly environment such as high temperature and humidity; hence, eliminating deterioration to the product's performance.
You have successfully added from to your part list.
---