Stylish self-service touchscreen kiosk
Product Announcement from KINGLEADER Technology Company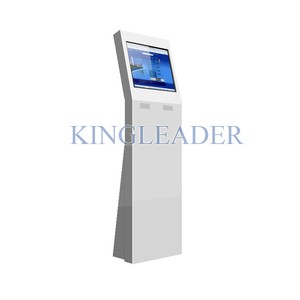 Kiosk with super-slim,surved,stylish and ADA compliant design;vandal-proof SAW touchscreen,TFT LCD display
Key Features
? High-sensitivity,high light-transmittance,anti-glare,vandal-proof SAW touchscreen
? 15″,17″,19″TFT LCD displays for option
? Durable steel enclosure,super-slim,curved,stylish and ADA compliant design
? Built-in hi-fi amplified speakers
? Customizable
? Applications: office building,court house,hospital/medical center,airport,university,
government building,shop,theater and other public places where information and/or
transaction are provided in self-service and interactive manner.
Technical Specifications
TFT LCD Display
- Resolution: 1024x768(15″)
1280x1024(17″and 19″)
- Brightness: 250~300 nits
- Contrast ratio: 450:1
- Response time:8 ms
Touch Screen
- Vandal-proof SAW touch screen
- Material: Heat tempered glass with thickness 6mm
- Resolution: 4096*4096
- Deviation of error: <2mm
- Light Transmittance: ≥ 92%
- Surface Hardness: 7 Mohs scale
- Lifetime:50,000,000 times at one single location
- Response time: less than 16 ms
- Touch activation force: 10~100g
Enclosure
- Durable steel enclosure (different colors for option)
- Built-in power control panel, and hi-fi speakers.
- Two cooling fans for computer board and main body separately
- RJ45/RJ11 interface
- Large access doors with tubular locks/keys
Mother Board
- Integrated display card/sound card/net card
- CPU: Intel Pentium dual core E3400,2.6 GHZ (upgradeable on request)
- RAM: 1GB (upgradeable on request)
- Hard Disc: 320GB (upgradeable on request)
- Internet functionality
Compatible Operation System
LINUX/Win3.X/98/2000/NT4.0/XP
Working Voltage
AC 220V,50 Hz or 110V,60 Hz for option
Ambient Environment
- WorkingTemperature:-20?~65?;
-Relative Humidity: 30%~90%
- Storage Temperature:-40?~80?;
-Relative Humidity: 5%~95%
Dimensions
-143(height) x 48(width) x 26(depth) CMs
-Packing dimension: 150 x 60 x 46cm
Peripherals
Stainless steel keyboard,card reader/writer,barcode scanner,printer,video camera etc.
---