Metal Injection Molding
Service Detail from Kingtec Tool & Molding Co., Ltd.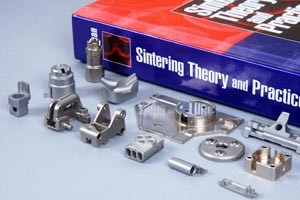 Our MIM Capabilities
Early involvement and assistance in your part design
Quick turnaround in-house tooling design and manufacture
Unlimited support in engineering change and mold change
Both home-made feedstock and BASF Catamold feedstock can be processed
Part mass limit 500 grams, length limit 260mm, wall thickness limits 0.2mm-25mm
Post-sintering machining, resizing, heat treatment, case hardening, surface finish
Material grade: FeNi2, FeSi3, 4140, 8620, 52100, M2, 17-4PH, 316L, 420, 430, 440C, FeNi50, Kovar
Tooling design is of vital importance to the smooth production of high volume MIM parts. Although MIM mold share similar structure as plastic mold, it has its own design principles as well. A good MM mold should be designed to facilitate the free flow of material in the cavity, thus avoiding high injection pressures which normally cause unfavorable powder/binder separation and concentrate stress at critical areas. The gate and flow path design has a great impact on the tolerance of MIM dimensions. If they are ill-designed, the molded part will go through serious distortions in the sintering furnace - some are permanent and cannot be brought back. Even if they could, the high production rate of MIM process would have been slowed down by the inefficient resizing operations conducted manually. So, the importance of mold design in MIM process cannot be overstated, and fortunately we have abundant experience and design know-how to ensure yet another successful MIM process begins right from here. When it comes to manufacture, we mainly use grinding and EDM processing to work on the mold capabilities and parting surface , instead of CNC milling, to ensure close dimensional tolerance and smooth surface condition. Well begun is half done. Once a high quality mold has been built, the part manufacture will be easy and smooth. But, having a well-designed mold for production doesn't mean the process will be as rewarding as it is supposed - the product must be well-designed, too. Kingtec can be of great help in this regard because our specialists know what favor a MIM process as well as what works against it.
---