Product Announcement from Knick USA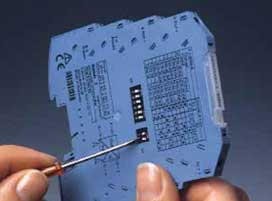 Knick is the first company in the world to present a standard-signal isolator in a 6-mm housing with broad-range power supply. Calibrated range selection and protective separation are both part of the compact devices' feature set.
? Ideal for high demands
VariTrans® A 21000 isolates, transmits and converts 0 to 20 / 4 to 20 mA and 0 to 10 V standard signals with a high level of accuracy. In spite of the modular housing only 6 mm wide, the new VariTrans® isolation amplifier provides maximum protection of personnel and equipment by protective separation up to an operating voltage of 300 V conforming to EN 61140. Test voltage is 2.5 kV AC.
Very small coupling capacitances ensure that high transient common-
mode interferences can be reliably isolated and cannot lead to system malfunctions.
? Worldwide application
Maximum flexibility is provided by the integrated broad-range power supply for 24 … 110 V DC / 110 … 230 V AC. This ensures trouble-free operation with alternating or direct voltages everywhere in the world even in unstable power supply networks. Erroneous connection of mains supply is practically impossible and expensive standstill times and repair work during the commissioning are prevented.
? Calibrated range selection
VariTrans® A 21000 sets the measuring ranges via DIP switches - comfortably and unmistakably.
Calibrated range selection ensures a gain accuracy of 0.2 (0.3) %. Tedious on site adjustment using a screwdriver, calibrator or multimeter is therefore no longer required - it couldn't be safer or easier!
? Universal usability
The 3-port isolation offers diverse application possibilities. The input and output circuits can be applied to any potentials, taking account of the permitted working voltages. The distinction between input and output isolation amplifier is not required with the VariTrans® A 21000 because all three electric circuits are galvanically isolated from each other.
? Ideal for SPC applications
In developing the VariTrans® A 21000 standard-signal isolation amplifier, the requirements of EN 61131-2 "Programmable Controllers" were consistently taken into account. Although isolation amplifiers are predominantly used for DC current signals, the correct transmission of fast signal changes cannot be dispensed with. Excellent large signal characteristics guarantee a correct run into the overrange limit. Dead times, hysteresis, signal reversal or latch-up effects are prevented - an indispensable feature for further processing in the SPC.
? Long-term reliability
Knick has achieved a significant increase in reliability and service life through the development of isolation amplifiers with extremely low power consumption. The resulting minimum self-heating of the devices together with their only 6-mm-wide modular housing allows high component density in the enclosure. The benefit for reliability is reflected in an MTBF (mean time between failures) of 280 years.
You have successfully added from to your part list.
---