Industrial Galvanic Isolation of Analog Signals
Product Announcement from Knick USA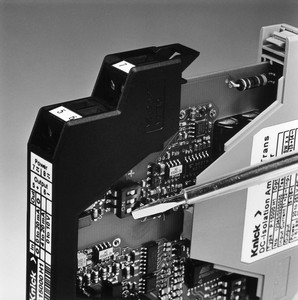 Conversion and isolation of standard analog process signals such as 0 ... 20 mA, 4 ... 20 mA as well as 0 ... 10 V standard signals. Universal signal adaptation, Transmitting signals over long distances, High voltage measurements, Signal Amplification or Duplication, Functional safety, Confined space requirements or even if you have a limited budget, there can be difficulties in solving ground loops and converting signals. When it comes to selecting an isolator or signal converter to break the galavnic path Knick offers many products to suit these requirements. When you cannot allow direct connection of the measuring signals with other devices especially for demanding applications you need to work with an expert in this field. Knick is an expert in Signal Conversion Technology. We manufacture devices for measuring, conditioning, transmitting, and amplifying analog signals. We also offer transducers for measuring current and voltage as well as devices for detection of sensor signals. Our devices meet the most demanding of industrial applications for signal processing. The transmission of these signals almost always requires electrical isolation for both safety reasons as well as optimum signal quality. Knick's products can be used in measurements at dangerously high voltages, where explosion hazards exist, different ground potentials, long distances, or high common-mode voltages do not allow direct connection of the measuring signals with other devices. We take particular pride in our precision and transmission error to guarantee our products operate reliably and ensure safe functioning even under extreme conditions. Knick offers isolation amplifiers for working voltages up to 3600V and test voltages up to 15 kV AC.
Knick Signal Conversion Technology includes...
Universal Signal Converters input from 0 through 1000V or .1mA through 5A, analog outputs 0(4)-20mA, 0-10V, and others are available.

Loop Powered Isolators galvanic isolation of 0(4)-20mA standard current signal, no power supply necessary, up to 4 channels

Temperature Transmitters for measuring Resistance Thermometers (RTD) or Thermocouples (TC)

Resistance Transmitters for Determining Potentiometer Position

Strain Gage Transmitters for Force, Weight, Deflection and Torque

AC/DC Transmitters for Isolation and Conversion of AC current or Voltage into standard signals

Broad Range Power Supplies for transmitters and amplifiers that are not loop powered

Isolators for Hazardous Areas safe isolation and explosion protection according to ATEX

Shunts for measurement of DC current 10A through 15kA, 0.5% and 0.2% accuracies
You have successfully added from to your part list.
---