1000V Transducer with 5.4kV test
Product Announcement from Knick USA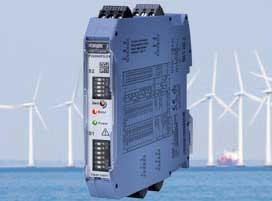 VariTrans® P 29000
Working voltages up to 1000 V AC/DC and test voltages up to 5.4 kV AC, high performance and compact modular housing - with the VariTrans® P 29000 series, Knick is consistently expanding the VariTrans® range.
The new high-voltage amplifiers from Knick also present a globally unique combination of properties with substantial advantages in installation, configuration and operation:
• Safe galvanic isolation with high isolation
• Precise calibrated range selection (gain error 0.1 or 0.2 %)
• Simple configuration without additional tools
• Signal quality not influenced by control elements
• Integrated broad-range power supply 20 to 253 V AC/DC
Genuine calibrated range selection
VariTrans® P 29000 sets the measuring ranges via DIP switches on the front side of the modular housing. Selection is then regulated by a microcontroller, meaning that no calibrators or other instruments are required for on-site configuration. LEDs visualize correct functioning or any errors.
The simple implementation of special measuring ranges supports solutions tailored to your application.
Optimized housing
With a width of only 17.5 mm, the modular housings of the P 29000 series strike an optimum balance between compactness and safety. The minimum clearance between inputs and outputs, in conformance with standards, is reliably met in the P 29000 series; additional isolation measures are not required.
Facts
Universal usability: input 20 mV up to 1000 V as well as ±100 mA
Working voltages up to 1000 V AC/DC
Protective separation according to EN 61140 - protection of the maintenance staff and the subsequent devices against non-permitted high voltages up to 600 V AC/DC
Test voltage 5.4 kV AC across input and output
Excellent transmission properties:
- gain error 0.2 %
- cut-off frequency > 10 kHz
- rise time T99 <200 μs
High load capability at output:
14 V (current output),
10 mA (voltage output)
High immunity to transient common-mode interference:
T-CMR >100 dB
Exceptional flexibility with calibrated range selection; reduction of device variants and thus of storage costs
World-wide usability with VariPower® broad-range power supply 20 V to 230 V AC/DC ±10 %; reliable function even with unstable supply
No destruction in the event of incorrect mains voltage
Switchable output inversions
Rectifier in signal path (absolutevalue forming); optional
RangeLimit, adjustable lower or higher limit at output; optional
Test jacks for measuring output current and voltage
Low space consumption in enclosure with only 17.5 mm wide modular housing
Low-cost assembly - quick mounting, convenient connection of power supply through DIN-rail bus connectors (with 24 V DC supply)
You can view our 1000V transducer and request more information here: P29000
You have successfully added from to your part list.
---