Product Announcement from Konecranes Inc.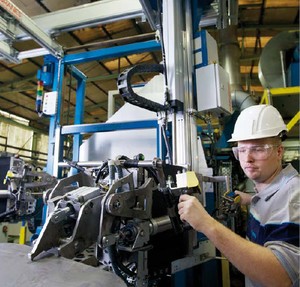 The development of safe, ergonomic work environments is a primary concern for current process industries. The requirement of meeting safety and health regulations as well as the goal to boost comfort for employees, while also boosting handling performance, is a challenge most industries have to deal with.
Konecranes has designed optimized solutions that are built to assist clients in handling these challenges by meeting the handling requirements of industries like:
Aviation
General Manufacturing
Railway
Automotive
Our Answer
Our manipulators are ceiling-based solutions made up of a telescopic lifting device (that has been built with an optimized gripping unit) as well as an XA crane system. The manipulators' modular build insures ultimate adaptability and flexibility for individual use in our clients' industries. Thanks to the ATL Vertical Lifter's balancing mode, part handling feels practically weightless, making tool guiding and part balancing much more ergonomic and safe. The device can boost productivity and lower cycle time by allowing the operator to perform frequently recurring procedures accurately, speedily and simply.
Unlike rope or chain hoists, this device can lift loads outside the center of gravity. Top-quality telescope guides allow for sway-free, accurate vertical manipulating and lifting. The ATL Vertical Lifters standard features include:
Top-quality diverse drive concepts with electrical chain hoists or pneumatic balance controls
Up to 1,600 kg of lifting capacity and up to 4,000 nm torque absorption (optional designs)
Design Information - Pneumatic Vertical Lifter Runs smoothly
The end stops are wear-resistant
Pneumatically secured because of check valve
Piston runs smoothly with low-friction sealing and guides
Smooth-running piston with low-friction guides and sealing
Compact swivel
Equipped with locking bolts ( pneumatic or manual)
Rotary flange with integrated deflection alignment
Optional builds
Swivel integrated in trolley frame
Safety piston rod clamp device
Design Information - Electrical Vertical Lifter Compact design
Minimum bearing distance because of top-quality LM-Guides
Short size because of the drive's side attachment
Drive unit
Overload detection is integrated
Powered by frequency converter-driven chain hoists
Optional builds
Linear distance measurement system
Trolley frame built with integrated swivel
Triple or double telescope up to 3,000 mm lifting stroke
Roller chain for super smooth motion
Builds for Special Uses
The following options result from the knowledge we've obtained through practical applications in various projects:
Ceiling-based lift pole for low headroom
Combination with post-based articulated arm
Spring balancer for tool manipulation
Variants for food drug and solar industries
You have successfully added from to your part list.
---