Product Announcement from Krytar, Inc.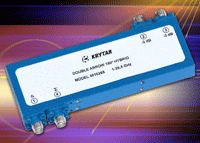 KRYTAR ANNOUNCES NEW COMPACT 180 DEGREE HYBRID MICROWAVE COUPLER COVERING ULTRA BROADBAND FREQUENCY FROM 1.0 GHz TO 26.5 GHz
SUNNYVALE, CALIF. - - - KRYTAR, Inc., a leader in the design and production of ultra broadband microwave components and test equipment announces a new 180 degree hybrid coupler that delivers 3 dB of coupling over the broadband frequency range of 1.0 GHz to 26.5 GHz in a single compact package.
Hybrid couplers perform many functions, including splitting and combining signals in amplifiers, switching circuits, and antenna beam-forming networks used in a wide range of commercial and military applications. KRYTAR's new hybrid coupler, Model 4010265, delivers this versatility from 1.0 to 26.5 GHz with excellent phase and amplitude matching. Typical specifications include Amplitude Imbalance: ±1.0 dB from 1-20 GHz and ±1.5 dB from 20 to 26.5 GHz; Phase Imbalance is ±16 degrees; Isolation is >15 dB; Maximum VSWR: 1.8 from 1 to 20 GHz and 1.95 from 20 to 26.5 GHz; Insertion Loss is 3.0 dB from 1 to 20 GHz and 3.6 dB from 20 to 26.5 GHz.
KRYTAR's new hybrid coupler offers the widest frequency coverage in a single package on the market and provides superior low insertion loss, high directivity and tight coupling. This new hybrid coupler lends itself to emerging wireless broadband designs and many test and measurement applications. This coupler can be also be manufactured to meet military specifications.
The Model 4010265 hybrid coupler handles 20 Watts of average power and 3 kW of peak power. This compact couplers measure only 4.0 inches (L) x 1.35 inches (W) x 0.52 inches (H), and weighs just 4.6 ounces. SMA female connectors are standard and N-type female connectors are optional. Operating temperature is -54°C to +85°C. This new coupler is available from stock to 30 days, ARO.
KRYTAR also offers complete engineering services for custom designs that meet or exceed critical performance and/or packaging specifications. A data sheet with specifications and package outline drawing is available via KRYTAR's Web site. Additional information can be obtained by contacting:
KRYTAR, Inc.
1288 Anvilwood Avenue, Sunnyvale, CA 94089.
Tel: +1-408-734-5999
Fax: +1-408-734-3017
Toll Free: +1-877-734-5999
e-mail:sales@krytar.com,
Web: www.krytar.com
KRYTAR, Inc., founded in 1975, is a privately-owned corporation specializing in the design and manufacture of ultra broadband microwave components and test equipment for both commercial and military applications. The KRYTAR product line includes directional couplers and detectors, hybrids, power dividers/combiners, terminations, coaxial adapters and a power meter and power sensors. KRYTAR microwave components are manufactured in full compliance with the EU RoHS-6 Environmental Requirements.
You have successfully added from to your part list.
---