KRYTAR Announces DC to 67 GHz Coaxial Termination
Product Announcement from Krytar, Inc.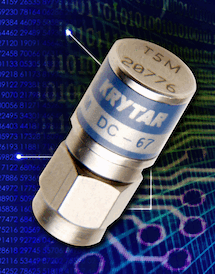 KRYTAR Announces A New Precision Coaxial Termination Covering Ultra-Broadband Frequency From DC to 67 GHz
SUNNYVALE, CALIF. - - - KRYTAR, Inc., a leader in the design and production of ultra-broadband microwave components and test equipment announces a new precision coaxial termination covering ultra-broadband frequency range from DC to 67 GHz.


KRYTAR's new coaxial termination, Model T5M, features a passivated stainless steel body with a center contact which is gold-plated and heat-treated beryllium-copper (BeCu) material. The new coaxial termination offers a maximum VSWR of 1.2 (DC-40 GHz) and 1.43 (40-67 GHz). The T5M termination has a 2.4 mm male connector and measures only 0.84-inches long x 0.36-inches in diameter.


KRYTAR's coaxial terminations are useful when terminating unused ports, on isolated ports of hybrids and combiners, and to protect devices from signal reflections. KRYTAR's terminations are designed to be used in a wide range of ultra-broadband microwave components and test equipment for both commercial and military applications.


The new Model T5M joins a wide selection of extremely rugged 50 Ohm mechanical coaxial terminations. KRYTAR designs offer reliability, long wear and excellent repeatability. Many KRYTAR coaxial terminations have been used to make thousands of measurements and are still within their original performance specifications.


As with all KRYTAR?precision coaxial terminations, the new Model T5M is available from stock to 30 days, ARO. A Data Sheet with complete specifications on KRYTAR's family of precision coaxial terminations is available via KRYTAR's Web site.
KRYTAR also offers complete engineering services for custom designs that meet or exceed critical performance and/or packaging specifications. Additional information can be obtained by contacting KRYTAR, Inc., 1288 Anvilwood Avenue, Sunnyvale, CA 94089.
Tel: +1-408-734-5999
Fax: +1-408-734-3017
Toll Free: +1-877-734-5999
e-mail:
sales@krytar.com
Web:
www.krytar.com
KRYTAR, Inc., founded in 1975, is a privately-owned corporation specializing in the design and manufacture of ultra-broadband microwave components and test equipment for both commercial and military applications. The KRYTAR product line includes directional couplers and detectors, hybrids, power dividers/combiners, terminations, coaxial adapters and a power meter and power sensors. KRYTAR microwave components are manufactured in full compliance with the EU RoHS-6 Environmental Requirements.
You have successfully added from to your part list.
---