Product Announcement from Krytar, Inc.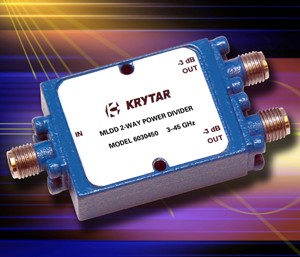 KRYTAR ANNOUNCES NEW COMPACT 2-WAY POWER DIVIDER OFFERING HIGH PERFORMANCE OVER BROADBAND FREQUENCY FROM 3.0 GHz TO 45.0 GHz
SUNNYVALE, CALIF. - - - KRYTAR, Inc., a leader in the design and production of ultra broadband microwave components and test equipment announces a new 2-way power divider offering high performance over the broadband frequency range of 3.0 to 45.0 GHz in a single compact package.
KRYTAR's new power divider offers the widest frequency coverage in a single package on the market and provides superior performance. Targeting broadband electronic warfare (EW) systems and complex switch-matrix applications, for example, KRYTAR used its proprietary design to produce a matched-line directional divider (MLDD) with ultra-high performance over the broadband frequency range of 3.0 to 45.0 GHz. Model 6030450 offers high-pass frequency response to attain low insertion loss and high isolation.
KRYTAR's technological advances has extended the frequency range of this 2-way unit from 3.0 to 45.0 GHz with greater than 14 dB Isolation and ±0.50 dB Amplitude Tracking. The two-way divider exhibits Insertion Loss of less than 1.9 dB across the frequency range. Maximum Input VSWR is 1.9 and Output is 1.99. Phase Tracking is ±7 degrees. Model 6030450 is a compact package measuring 1.30 inches (L) x 1.00 inches (W) x 0.40 inches (H), weighs only 1.1 ounces, and comes with 2.4-mm coaxial female connectors.
This new 2-way power divider lends itself to emerging wireless broadband designs and many test and measurement applications. This 2-way power divider can be manufactured to meet military specifications.
KRYTAR also offers complete engineering services for custom designs that meet or exceed critical performance and/or packaging specifications. A data sheet with specifications and package outline drawing is available via KRYTAR's Web site. Additional information can be obtained by contacting:
KRYTAR, Inc.
1288 Anvilwood Avenue, Sunnyvale, CA 94089
Tel: +1-408-734-5999
Fax: +1-408-734-3017
Toll Free: +1-877-734-5999
e-mail: sales@krytar.com
Web: http://www.krytar.com.
KRYTAR, Inc., founded in 1975, is a privately-owned corporation specializing in the design and manufacture of ultra broadband microwave components and test equipment for both commercial and military applications. The KRYTAR product line includes directional couplers and detectors, hybrids, power dividers/combiners, terminations, coaxial adapters and a power meter and power sensors. KRYTAR microwave components are manufactured in full compliance with the EU RoHS-6 Environmental Requirements.
You have successfully added from to your part list.
---