Product Announcement from LADD Distribution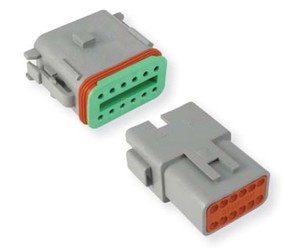 DEUTSCH industrial DT Series connectors offer several modifications to enhance the design flexibility and meet application specific needs. Options include enhanced seal retention, flanges, and connector body color just to mention a few. By combining the DT Series connectors with the available modifications and accessories, the design possibilities are immense.
B016 Modification
The B016 receptacle modification provides safety against mis-mating. The B016 is available for the DT 12 way connectors, DT13/15, and DTF13/15 PCB Series connectors. In addition to the four keying positions (A, B, C, or D) and color coding, the B016 enhancement gives the user both visual and tactile proof of correct mating, thus eliminating mis-mating opportunities during assembly.
P012 Modification
The DT P012 plugs provide enhanced front seal retention providing an ultra tight environmental seal. The enhanced seal retention keeps the seal in place during mating and unmating. The P012 modification requires an enhanced P012 wedgelock. The DEUTSCH P012 modification is available in 2, 3, 4, 6, 8, and 12 cavity arrangements.
E007 & E008 Modification
To meet the application requirements where wires need added protection, the DT (E008) and DTM (E007) Series may be supplied with shrink boot adapters. These adapters accept shrink tubing.
Visit www.laddinc.com to learn about other DT Series modifications.
You have successfully added from to your part list.
---