Product Announcement from LAUDA DR. R. WOBSER GMBH & CO. KG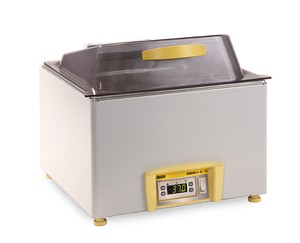 Reliable, practical, ergonomic - the new LAUDA Aqualine water baths.
Variants for all sample sizes. The LAUDA Aqualine water baths are available in five different sizes. Depending on the size and the quantity of the samples, the user has the right bath depth or opening for his application at his disposal. All the baths are made from deep-drawn stainless steel, and do not have any fittings. In this way, the interior is used to its full advantage, and the number of samples per bath is maximised. Above all, the LAUDA Aqualine is orientated towards the requirements of biological, medical and biochemical laboratories. Thanks to the innovative heating concept, the baths also achieve a high level of temperature homogeneity, even of large numbers of samples.
Typical applications: the preparation of cytobiological or medical samples for analysis, pre-thermostating of environmental samples for spectroscopic analysis
Safety at all costs:
The innovative casing concept of the LAUDA Aqualine unites design and robustness. The recessed operating elements protect the electronics from dripping water and dirt. This increases the service life of the devices, and makes working safe. Reliable continuous operation with water (safety class I, NFL) is enabled thanks to the integrated overtemperature protection.
Details for simplifying work:
The baths have neither circulation pumps nor any other fittings, what makes them resistant to corrosion, easy to clean and disinfect and offers maximum usable space. This is advantageous for biochemical and medical use. The heating elements attached to the bottom of the bath vessel ensure a homogenous temperature distribution without spot overheating occurring even if large numbers of samples are to be thermostated. It is through this special technology that the minimum filling level for operation is 20 mm: important for large fluctuations in volume caused by change-over of the samples. The optimised roof shape of the swivelling bath cover made from stainless steel delivered as standard prevents condensation from dripping into the samples, irrespective of the opening position.

Important advantages:
- Easy operation via digital LED display
- Integrated overtemperature protection
- Large, optimum use of space
- Easy to clean, since the bath vessel does not have any fittings
- Homogenous temperature distribution thanks to heat elements underneath the bath
- Optimised shape of the bath cover prevents condensation from dripping into the samples
Standard accessories: Stainless steel gable casing

---> For more information about LAUDA Aqualine water baths please click here!
You have successfully added from to your part list.
---