LAUDA Process Thermostat Integral XT
Product Announcement from LAUDA DR. R. WOBSER GMBH & CO. KG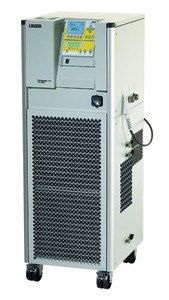 The LAUDA Integral XT process thermostats are equipped with the Command console as standard. Thanks to the intuitive menu-driven operation, the device settings are particularly easy to use. Due to the large graphic display, all the information essential to the thermostating process is available to the user at a glance.
The LAUDA Integral XT process thermostats are ideal for the requirements of the fast, precise thermostating of external systems in testing or pilot plants. Dynamic processes or other difficult thermostating tasks are safely mastered thanks to the use of high-performance technology.
Thanks to the special design of their cooling circuit, the Integral XT process thermostats are especially suitable for thermostating large and dynamic, complex systems.
The Integral XT process thermostats are characterised by extremely-fast temperature changes which are founded in the low, internally thermostated heat-transfer volumes. The efficient devices work according to a completely new technological principle, and increase the upper and lower limits of the working temperature range.
Fields of application: thermostating of stirrer tanks, glass or stainless-steel reactors in the chemical, pharmaceutical and biotechnology industries.
Comfortable working in a closed circuit:
The bath liquid circulates in the entire system of the LAUDA Integral XT process thermostats, and does not come into direct contact with the ambient air. A thermally separated expansion vessel is used for the volume compensation in case of temperature changes. This operating principle offers numerous advantages to users. At low temperatures the condensation of air humidity is reduced as well as odour nuisance at high temperatures. Low evaporation or oxidation allow a long service life of the bath liquid. Without the need to change media operation throughout the entire temperature range from -50 up to 200 °C is feasible.
Performance profile of the Integral XT:
- High-resolution, back-lit graphic LCD display for depicting the entire thermostating system, and with individuallyadjustable surface
- Real-time clock combined with timer function
- Editable programmer for up to 150 segments in five programs
- Nine pre-defined sets of parameters can be selected for the control
- Menu-driven operation in German, English, French or Spanish
- Function lights for heating, cooling and external control
- Error reports by means of bright LED lights, acoustic alarm and clear text message
- Vario pump with eight steps and adjustable limit of the pump pressure
- Integrated external control with cascade connection
- Supply temperature limit for the gentle heating of the external system
- Integrated opto-decoupled RS 232/485 interface as standard
- Graphic display of the temperature variation. The display is freely scalable.

For more information and further product types of the LAUDA Integral XT series please klick here!
For more information and further product types of the LAUDA Integral series please klick here!
---